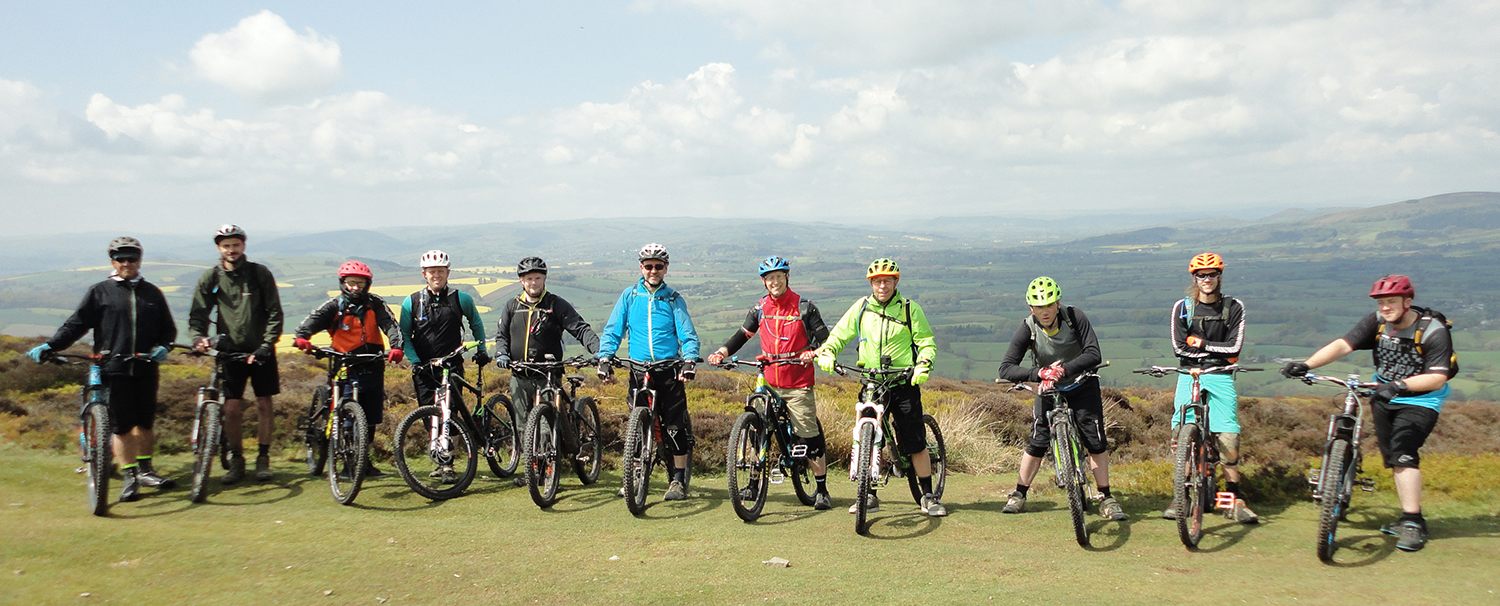 The Shropshire Hills features the infamous Long Mynd ("Long Mountain"). A quick Google for ideas would suggest reviews such as a sprawling reserve known for its picturesque, verdant landscape, charming villages & waterways.....but there is no mention of the epic six mile ascent to reach the top of the moorland plateau! A twelve strong Club Trip packed up their climbing legs and took to the 'Shire to endure the endless climbing, stunning views, fast singletrack, oh and some great cake.
The Long Mynd, is well known in the mountain bike world in particular as a superb bike test and magazine shoot backdrop location.  The Long Mynd, is part of an Area of Outstanding Natural Beauty and is a series of hills with steep gullies locally known as Batches. 
We first ventured t'up North to the Shropshire Hills back in 2015 and we always knew a repeat trip would be on the cards. The Shropshire Hills offer a great change to the Chilterns, by offering beautiful rolling moorland, open plains, rolling hills and ridge lines, and on a good day views of Snowdonia. With all this in mind we had a cracking group of twelve club members turn up to enjoy one of the finest weekends of weather so far in 2019! Club Members included AdamW, AleksB, ChrisA, CraigS, JimL, KevinE, LesterK, MartinJ, ScottC, SteveA, SteveW
The first of our group arrived on the Friday to enjoy a short "sighting lap" to see what the weekend would behold. The rest of the team arrived either late on the Friday, or turned up early on the Saturday. We had a great group that differed day to day, with some taking part across the whole three day weekend, others just taking in one or two days. MTB Shropshire is based in Marshbrook, at the bottom of the ridgeline, and caters accommodation, a bike shop and workshop and a fantastic pub all on site. For accommodation we booked a gaggle of log glamping pods with that are situated right next to the bike shop and pub. Breakfast is handled by the pub each morning, and for lunch or evening meals just stay put and enjoy a heavenly plate at the Station Inn.
Unless you head out out to do a huge loop, further into Shropshire or perhaps into Wales, a lot of the main riding in the Shropshire Hills works with trails going up and down the Long Mynd ridge line where we were based. Straight out of the car park you ensure essentially what seems to be a never ending six mile ascent up onto the ridge, with a mixture of road, firetrack and singletrack. Once on top of the ridge near the local gliding site, having dodged a few roaming sheep and horses on the way up, as you catch your breath you are lost in the breathtaking endless vistas. 

Once on top (almost...) of the Ridge there are then a multitude of options to descent back down either site taking in some glorious singletrack. Natural singletrack with rocks, natural kickers, water crossings, steps, gulleys and the odd sheep coming the other way. This is definitely some of the finest all natural singletrack in this part of the world.
For our big Saturday ride our group rode together for two ascents and three ascent loops (circa 18 miles), with a fine lunch stop (in the rain....) at the National Trust Carding Mill Valley and the Long Mynd Cafe whilst the hardcore carried on for a further third loop in the afternoon. The distance may not sound as much as you would expect, but the pure amount of tough climbing would relate to a circa 50 mile Chilterns ride out. A fine slap up meal in the Station Inn, and maybe a beer or two, was enjoyed on the Saturday night to toast Lester's birthday in style. 
On the Sunday a much smaller group headed out for a lap, on the finest day of sunshine that weekend, just taking in a single circa ten mile loop and a new singletrack descent, before heading back to the car pack for a shower, jet wash, and Station Inn burger before heading back to suffer the M6 southbound.
A big thank you to club member SteveA for kindly organising the trip, and to Jim for helping me pull it together when Steve had to unfortuantely bow out to injury. A big thanks to all our club members who came along to make a memorable weekend away on the bikes, and a huge thanks to the team at MTB Shropshire (made up of Blazing Bikes, The Station Inn and Mountain Edge Resort) for putting up with us all weekend!
A full album of all our photos from the trip can be found on our Facebook Gallery here.
A feel we may be back to Shropshire very soon indeed...