The weekend began for me with a rude awakening of bleep bleep bleep ringing in my earholes at about 4am. As I dragged myself out of bed I scoffed a quick bit of food, got ready and loaded the car and made my way to pick up Martin for 5am. Once at Martins we loaded his bits in the car, met up with fellow member Nathan and our journey began!
No sooner had we made our way through the roadworks on the M1 we soon found ourselves arriving at the Coed Y Brenin Visitor Centre where we would meet up for a pre ride breakfast.
Sausage and bacon rolls washed down with cups of tea were the order of the day here.
Once we were full it was time to get ourselves and the bikes ready for the first of our rides today…..'Llwbr Cyflym Coch'
In total 9 members made the early start for this ride with several more members planning to arrive at lunch.
Once ready we had a few group photos before we began the first trail.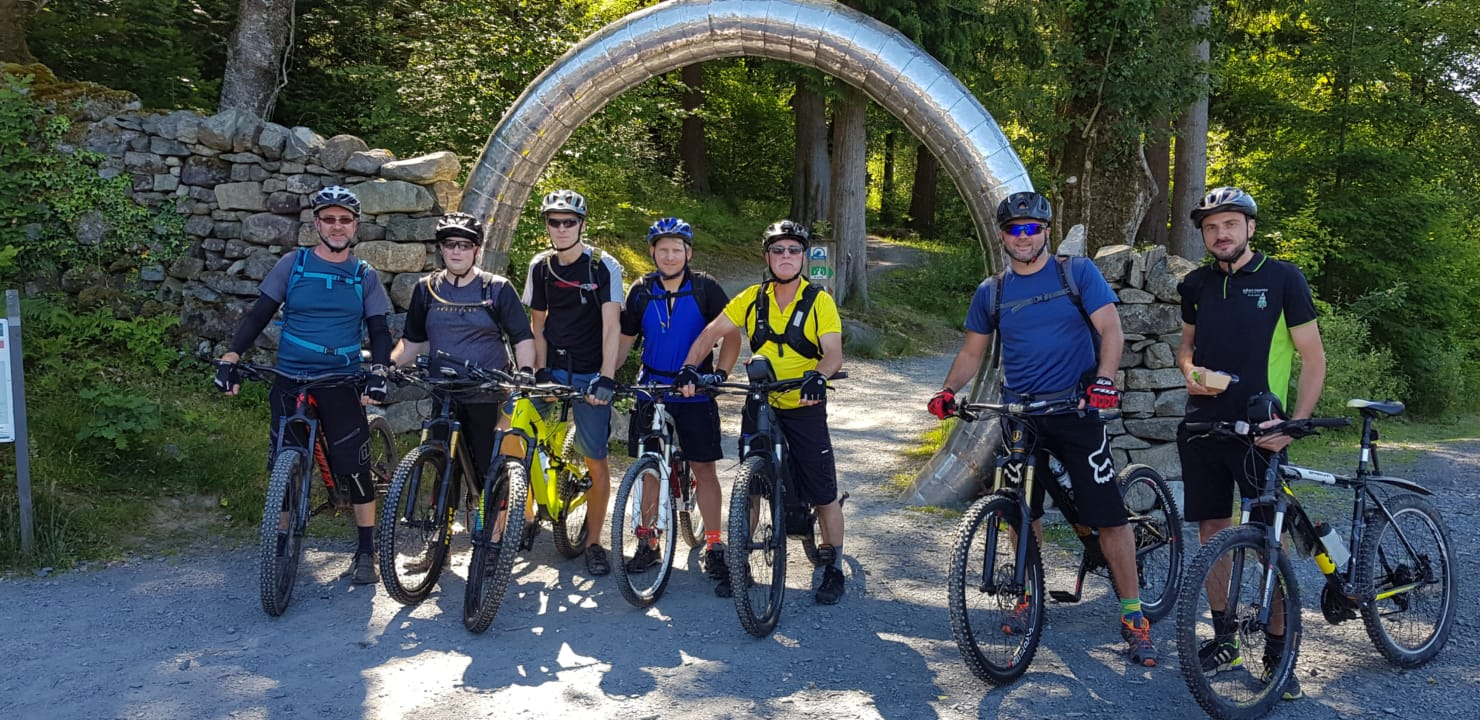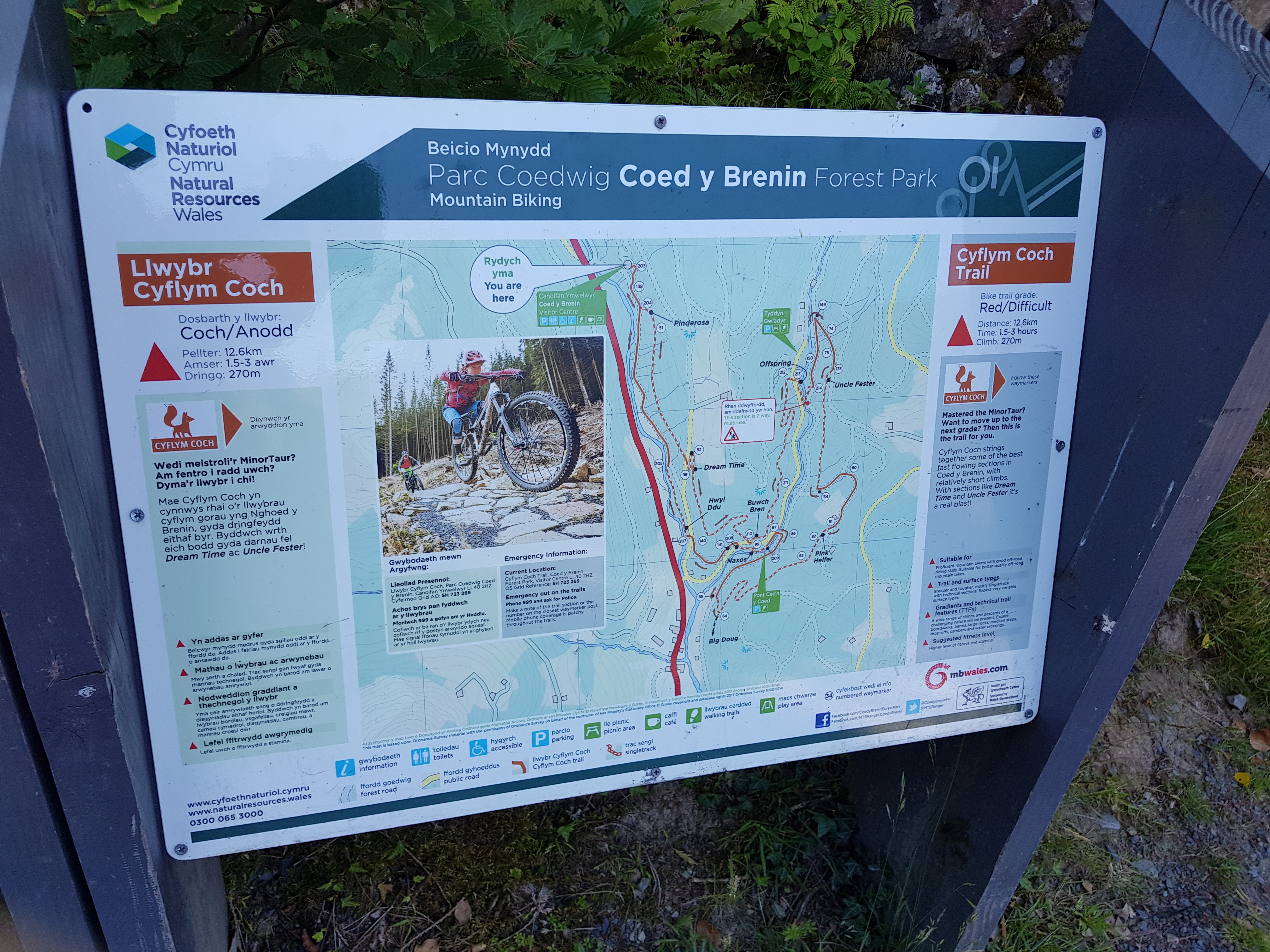 If you've not been to Coed before I can thoroughly recommend it as it truly has something for everyone, from fast flowing single track, technical rock gardens, river crossings, swooping curves and some challenging climbs it was a great way to spend our morning in the forest.
Once back at the start around lunch time we browsed the local bike shop for bits and pieces that none of us actually needed, but hey...it was bike stuff so we did need it...ALL OF IT!
One member Tony saw a bargain of an ebike that he was very tempted to get. He would have made the purchase there and then, but needed to work on his excuses for the Mrs first, however we all knew that in his head he had already brought it, which usually only means one thing ! (More of that later)
We stopped for an hour or so for lunch fed the local Robins and discussed the mornings ride whilst readying ourselves for the next one 'Llwbr Temtiwr'.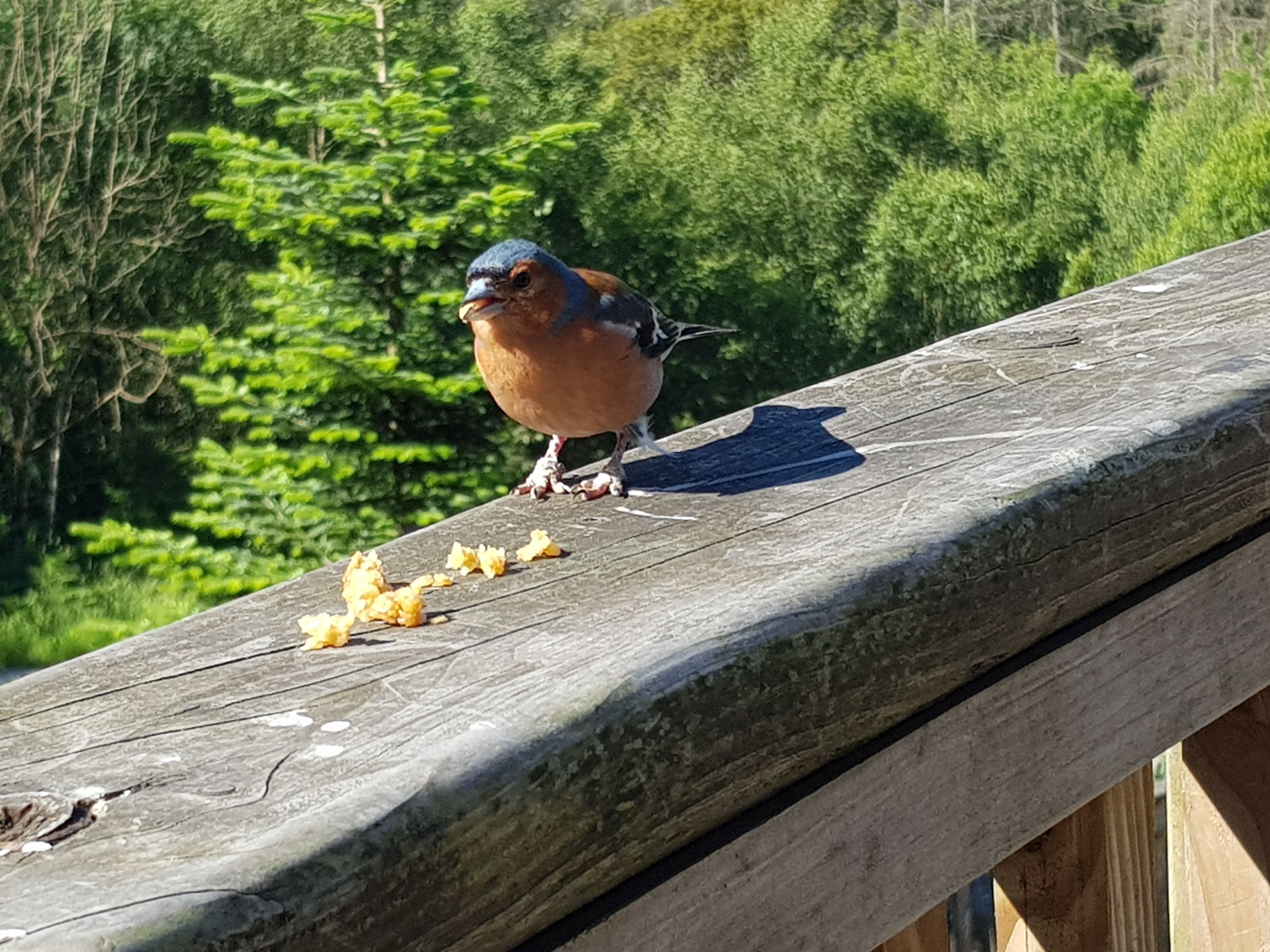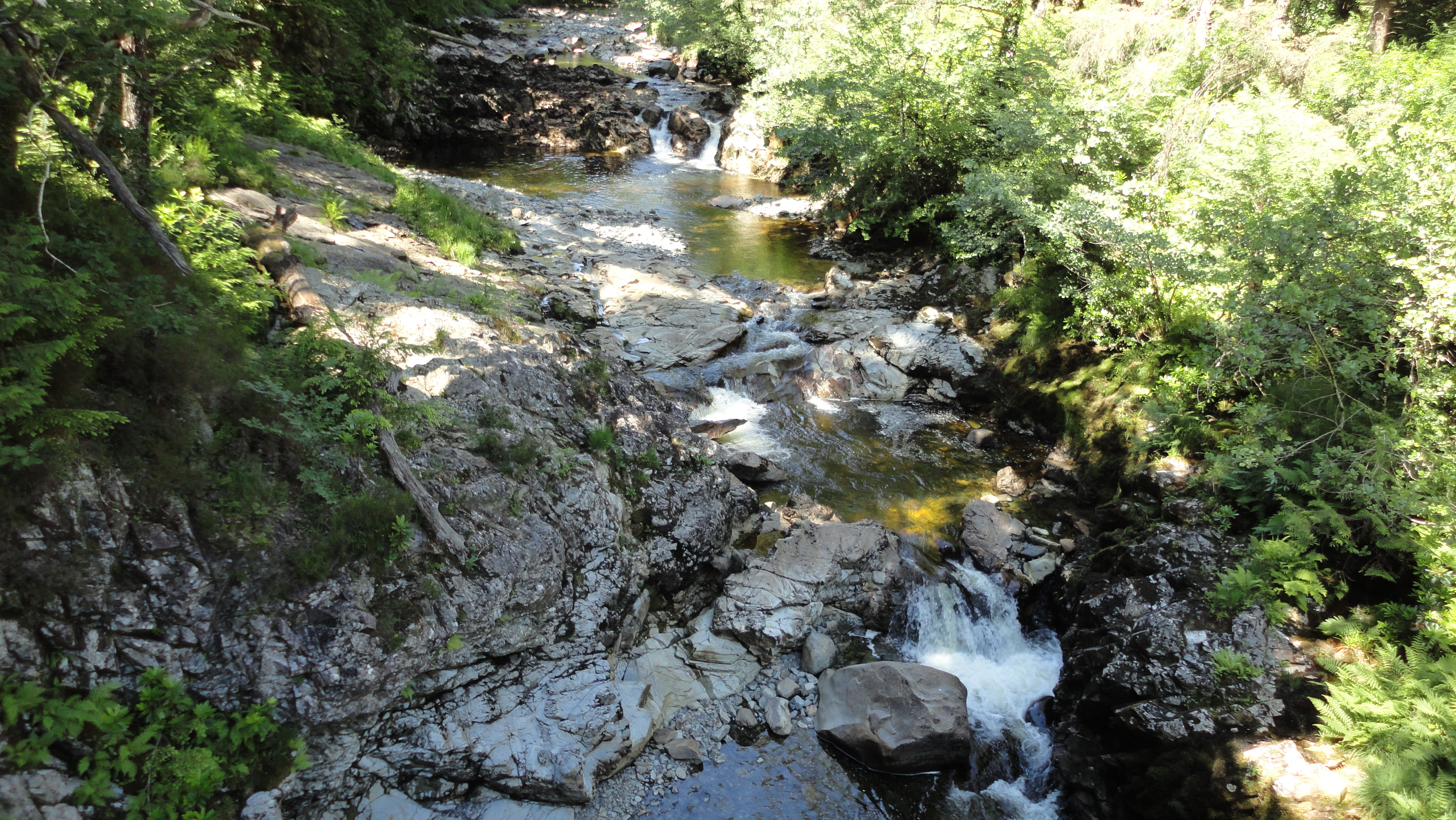 This ride was similar to this mornings taking the same initial climb and single track away from the centre before branching out into a different section of the forest.
Another great mixture of fast flowing single track, technical rock gardens, swooping curves and challenging climbs soon had us arriving back to where we began this morning.
Tony took another look at the ebike that we all knew he was going to buy and we departed for the Padarn Hotel in Llanberis which would be our base for the next few days.
We checked in to our rooms and unloaded our belonging and settled into the hotel bar with a well earned drink waiting for the evening arrivals. At this point our attention turned to the next main topic…..the weather!
The forecast was not looking good for the ascent on Saturday morning. Rain and clouds were on the cards, so I decided to put out a vote which in my eyes made more sense….to climb the mountain at 5pm when the voluntary agreement ended. The weather was looking much clearer and the rain (according to the forecast) would be gone.
Our evening guests arrived so we made our way to the local Indian restaurant for our staple mountain bikers diet…...a curry! This was where I would try to sell my idea to the remaining members that we would be better suited to make our ascent up Snowdon in the afternoon/early evening. It was put to the vote. As this was not a Brexit vote the majority actually won (if you're reading this 'remainers' this is how voting is supposed to work) and so it was decided we would make our climb at 5pm.
Suitably fed we made our way back through Llanberis high street back to the hotel bar for more drinks. A few more hours were spent in the bar and it was soon approaching 12 o'clock. We decided to turn it in for the night as we knew what was coming the next day.
After a good nights sleep we woke up and made our way downstairs for our breakfast.
This was the day where we would achieve our goal, to climb Snowdon.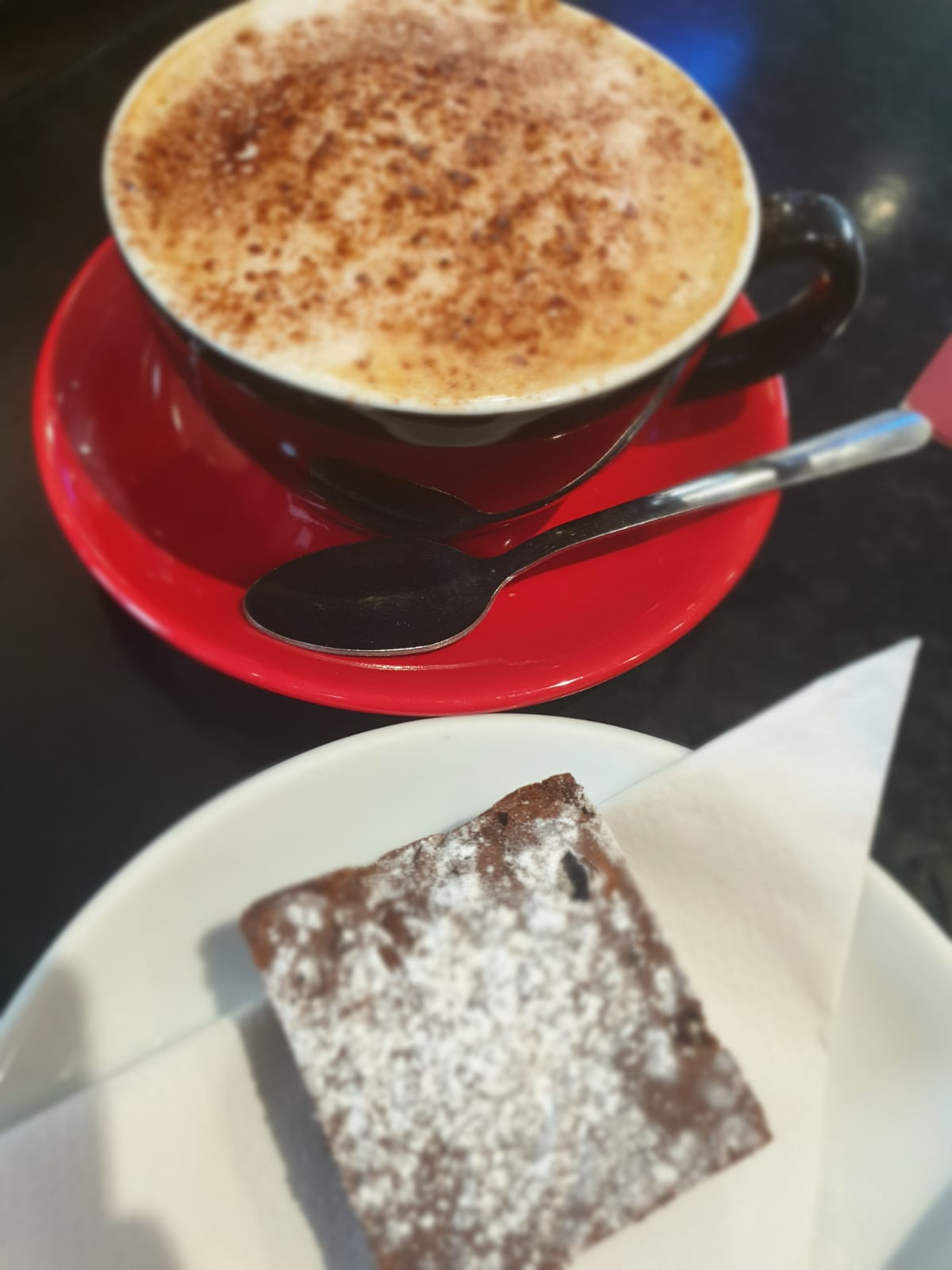 I could feel an air of excitement amongst fellow members. Some of us knew what to expect having done this journey before and some of us (myself included) had no clue how big the task ahead was going to be!
It was planned that we would have an easy day with nothing too strenuous prior to Snowdon.
Some of us went for a walk round the local lake 'Llyn Padarn' this was however cut short, due to the rain which was forecast the night before. So far the vote was looking like a good call.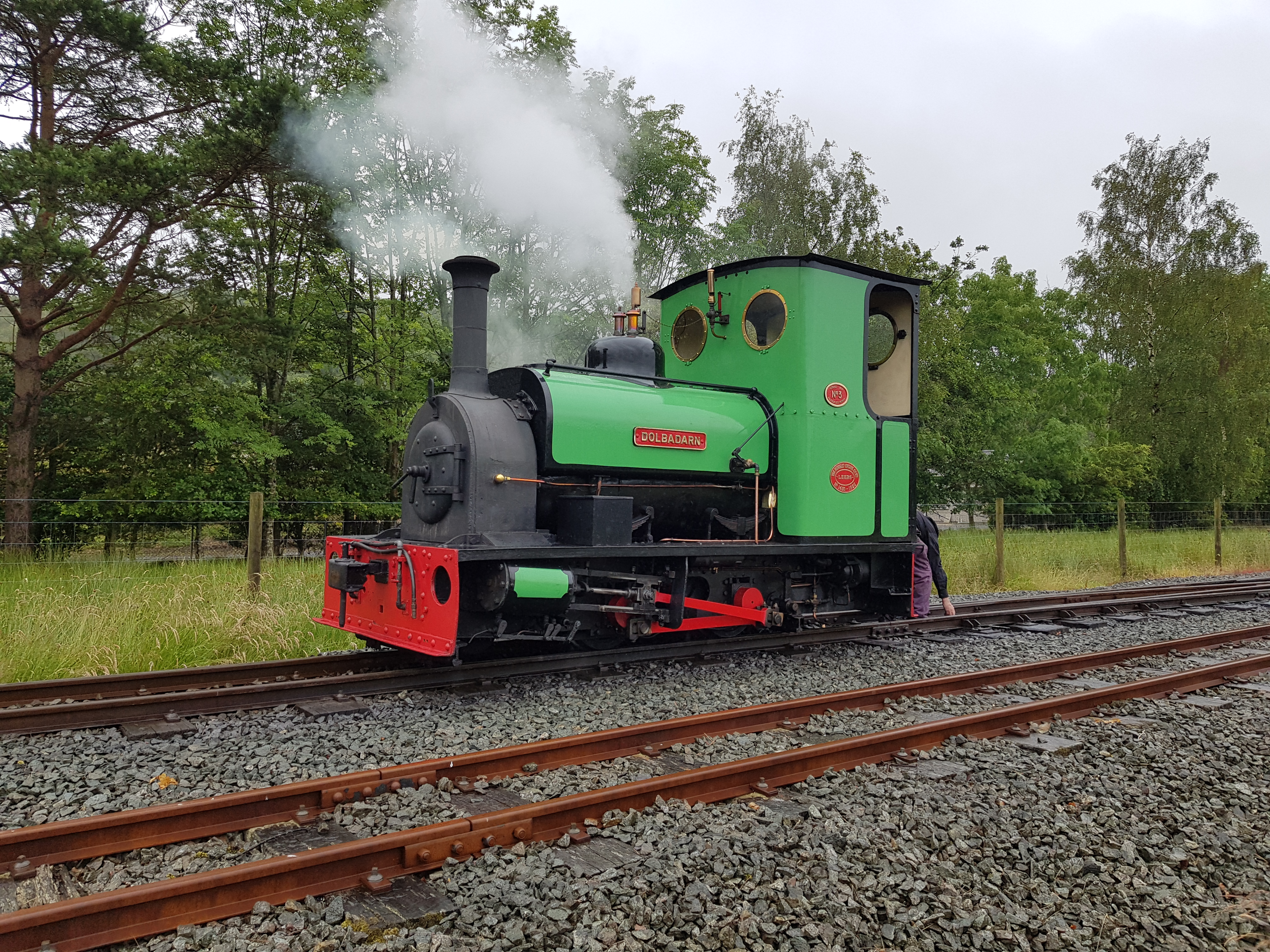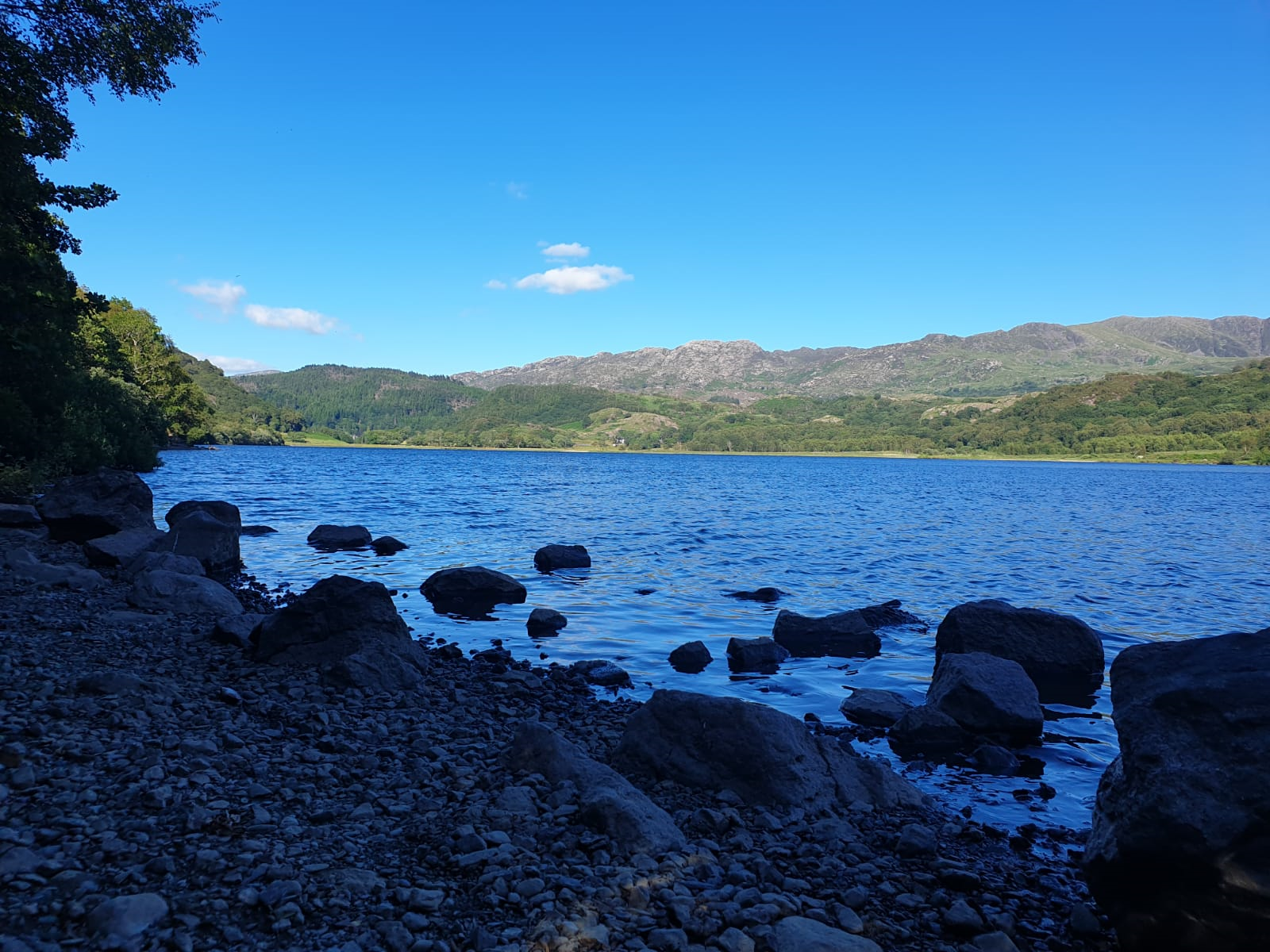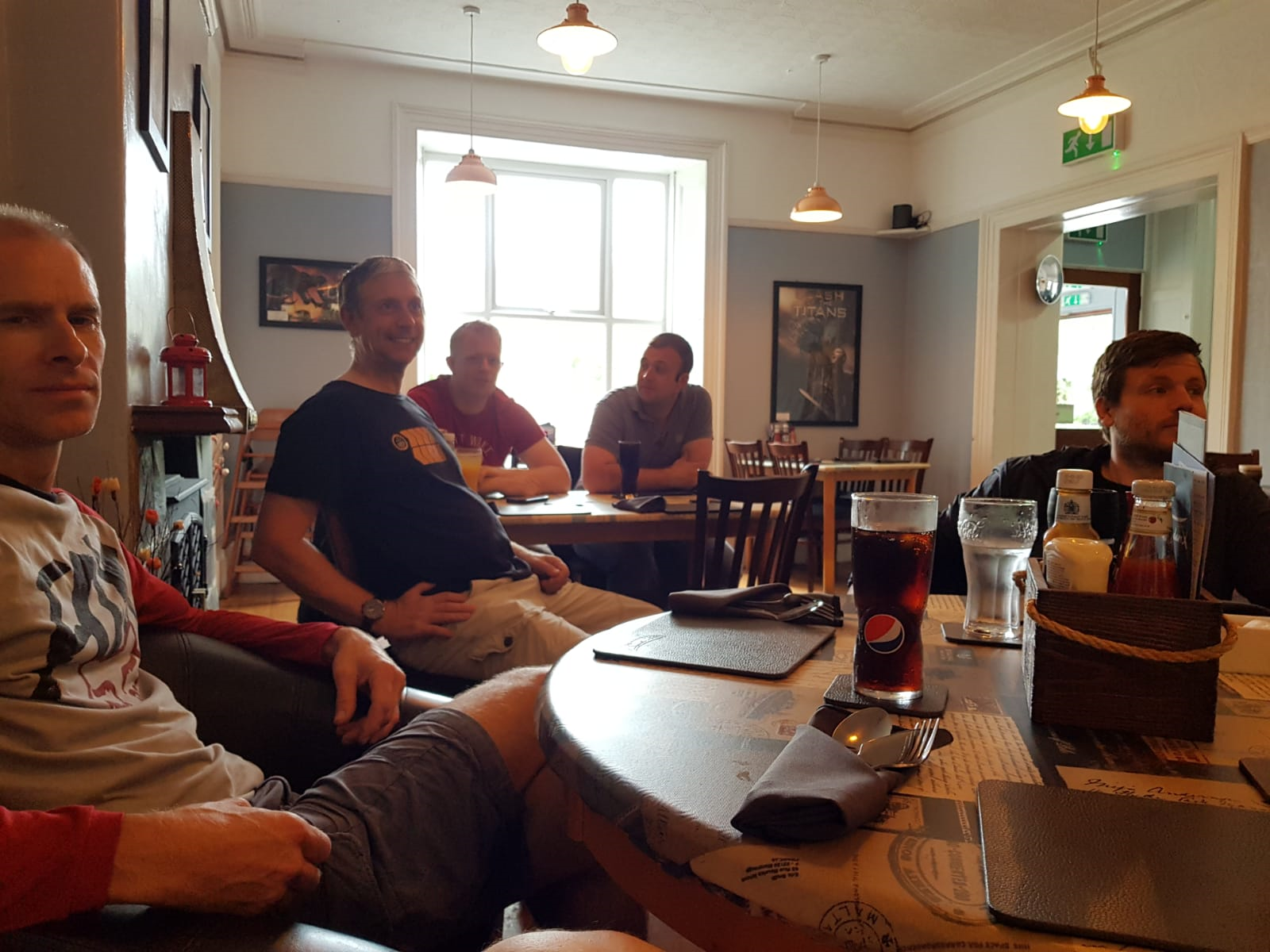 Back to the ebike that Tony had his eyes on yesterday, well we all knew he would be getting it at some point didn't we! I can only assume he had worked out a reasonable excuse to tell the Mrs as he made his way back to Coed Y Brenin to make his much needed purchase!
Several hours later and he arrived back with a new bike. We had our lunch and admired and congratulated him on his new purchase.
By now the day was ticking on and it was time to start preparing everything for our upcoming assault on the mountain.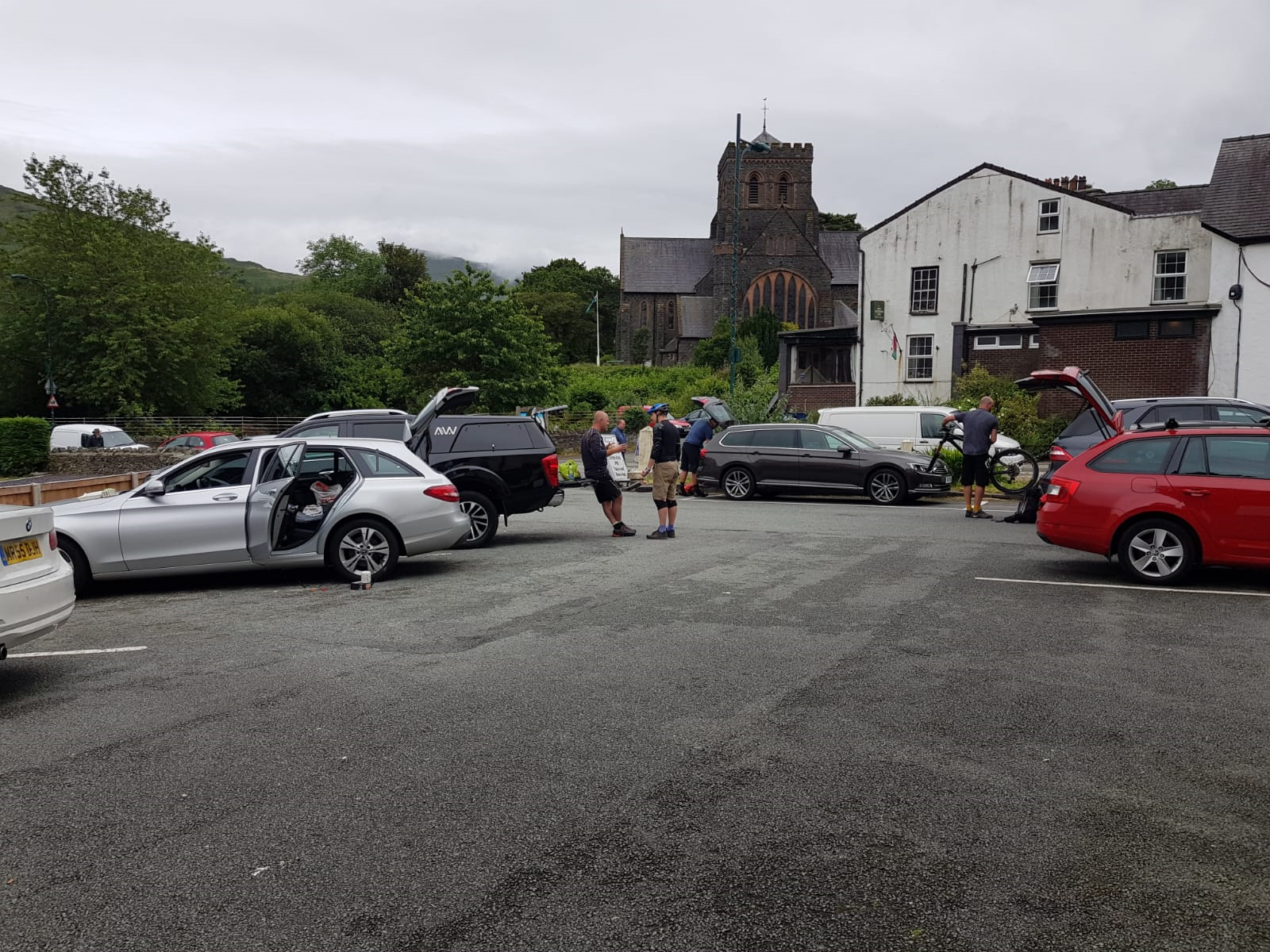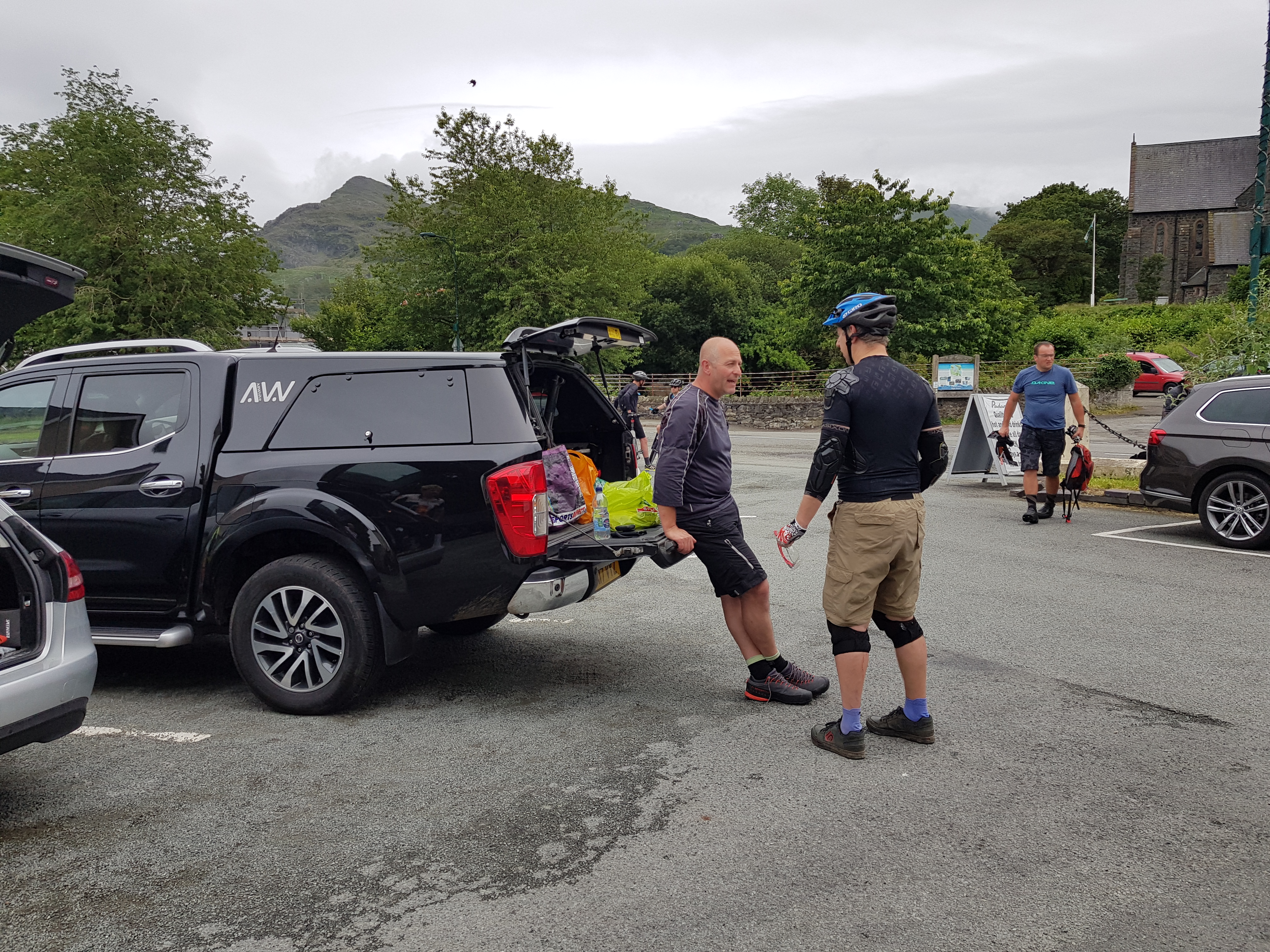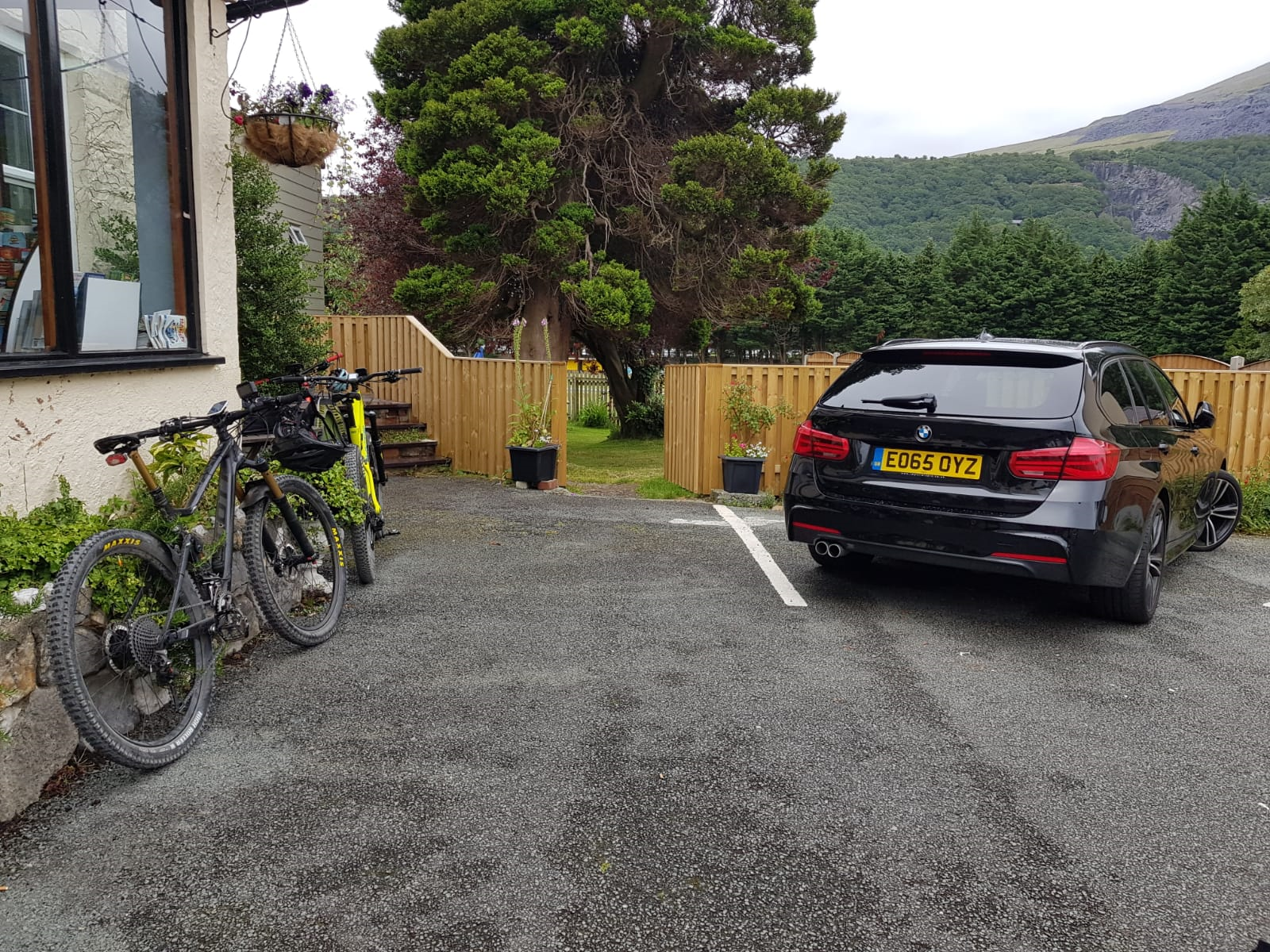 Some members were not staying in the main hotel so we all agreed that we would meet at the Victoria Hotel as this would be the perfect place to meet near the Llanberis path.
There were 14 of us in total so we all lined up for the customary photo courtesy of a passer by, who promptly advised us how mental we all were!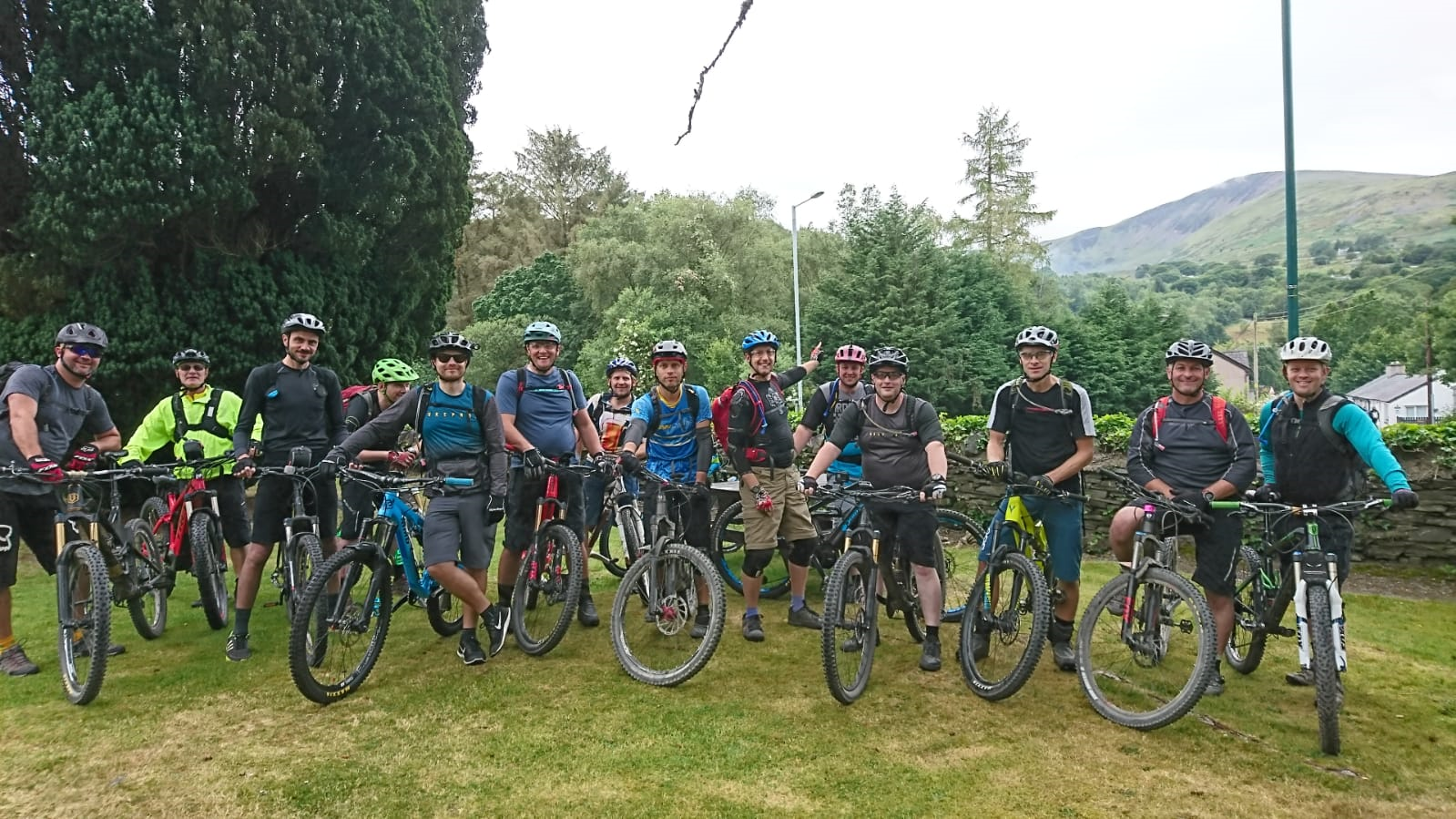 And so we began. The first part of the ride was a brutal road climb, after what seemed like miles but was only a short distance I was knackered! We eventually arrived at the end of the road where we would have to wait for half hour or so by the Llanberis gate until the 5pm curfew had lifted.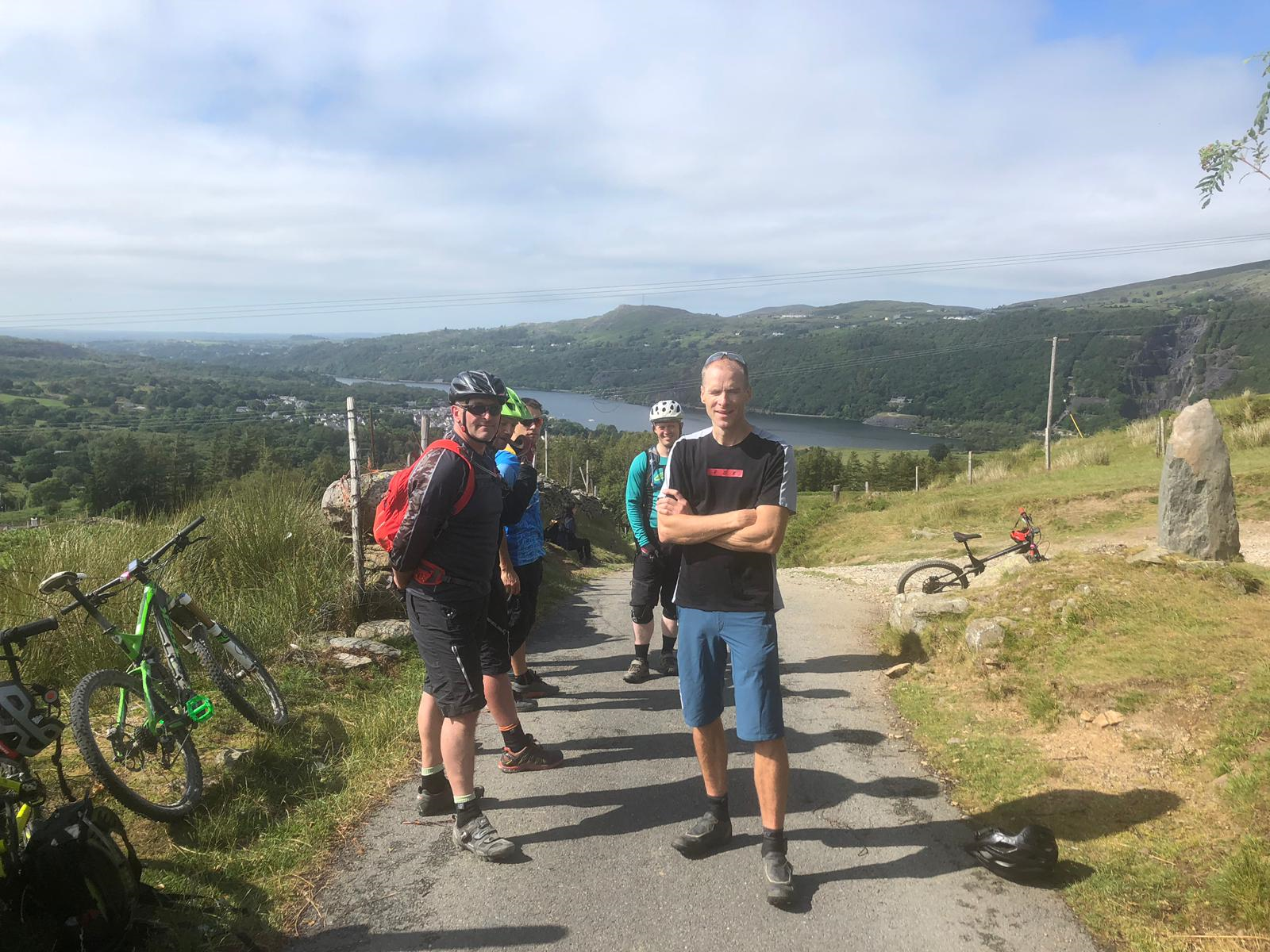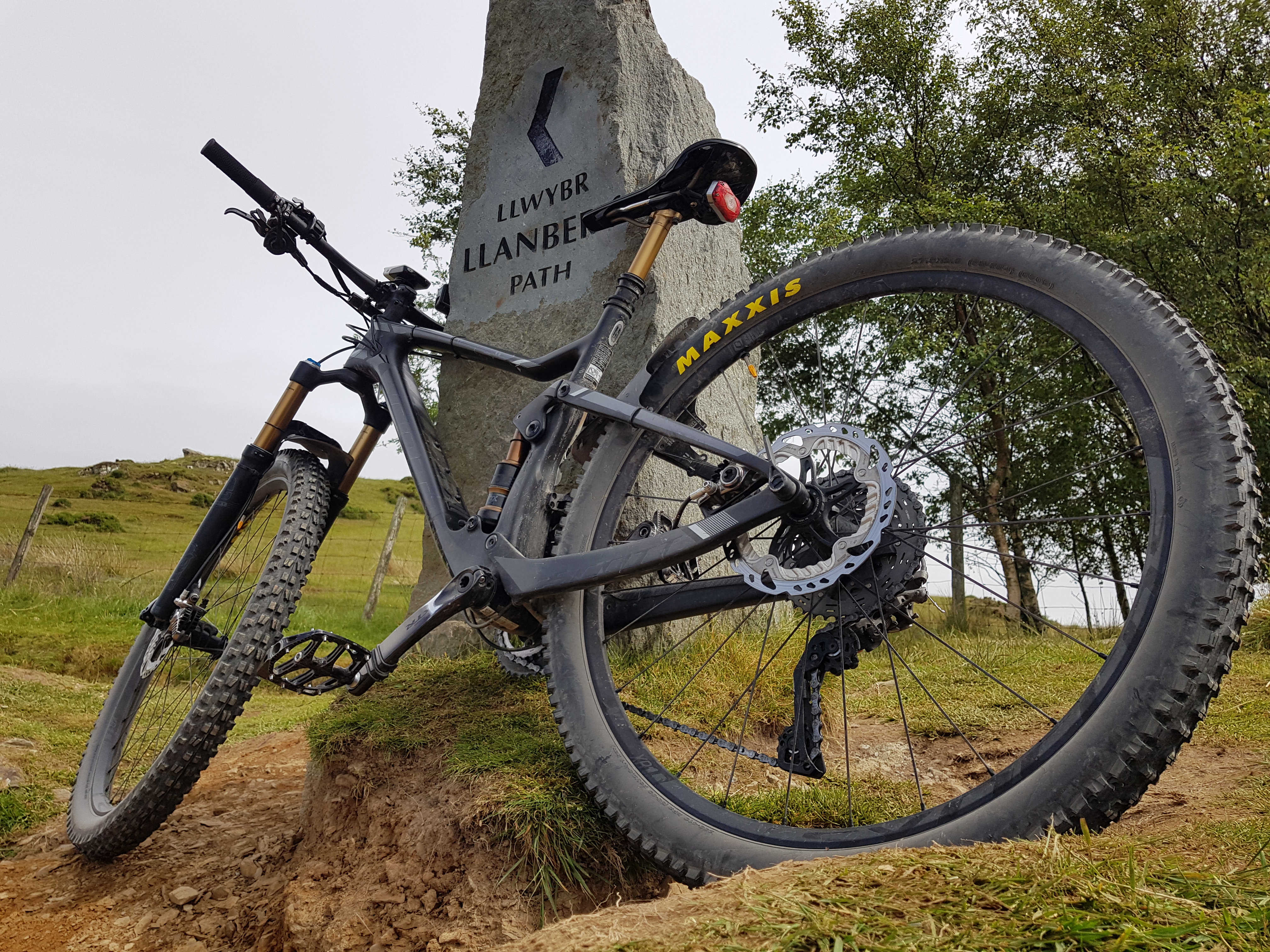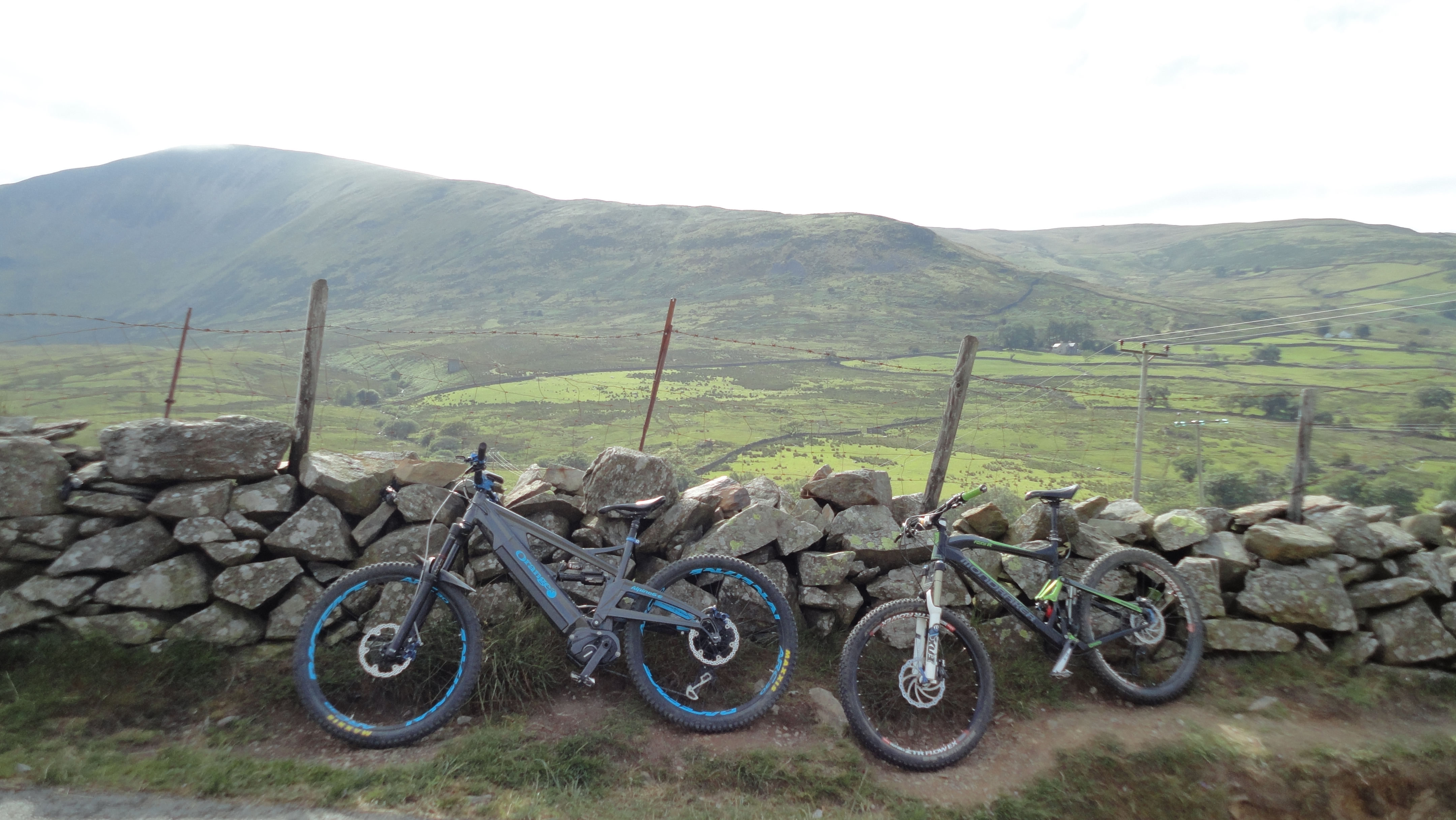 We decided to stagger our starts and I was one of the slowest I was one of the first to leave.
As I slowly made my way up the first section weaving in and out of the rocks the view in the distance was masked by clouds. I looked up at the trail as I could see it snaking up the mountain for what looked like miles and miles. At this point I wondered what I had let myself in for.
Whilst making my way up I passed lots and lots of walkers making their way down, some offering words of encouragement, some advising me that I was mad. I had no argument, I had to agree with them, I kept telling myself it would be worth it for the descent.
I tried my best not to stop at all during the ascent except for the known stopping places, such as the halfway cafe. It was here I met several other members taking a well earned break along with making some necessary bike repairs, mainly a bent rear mech hanger.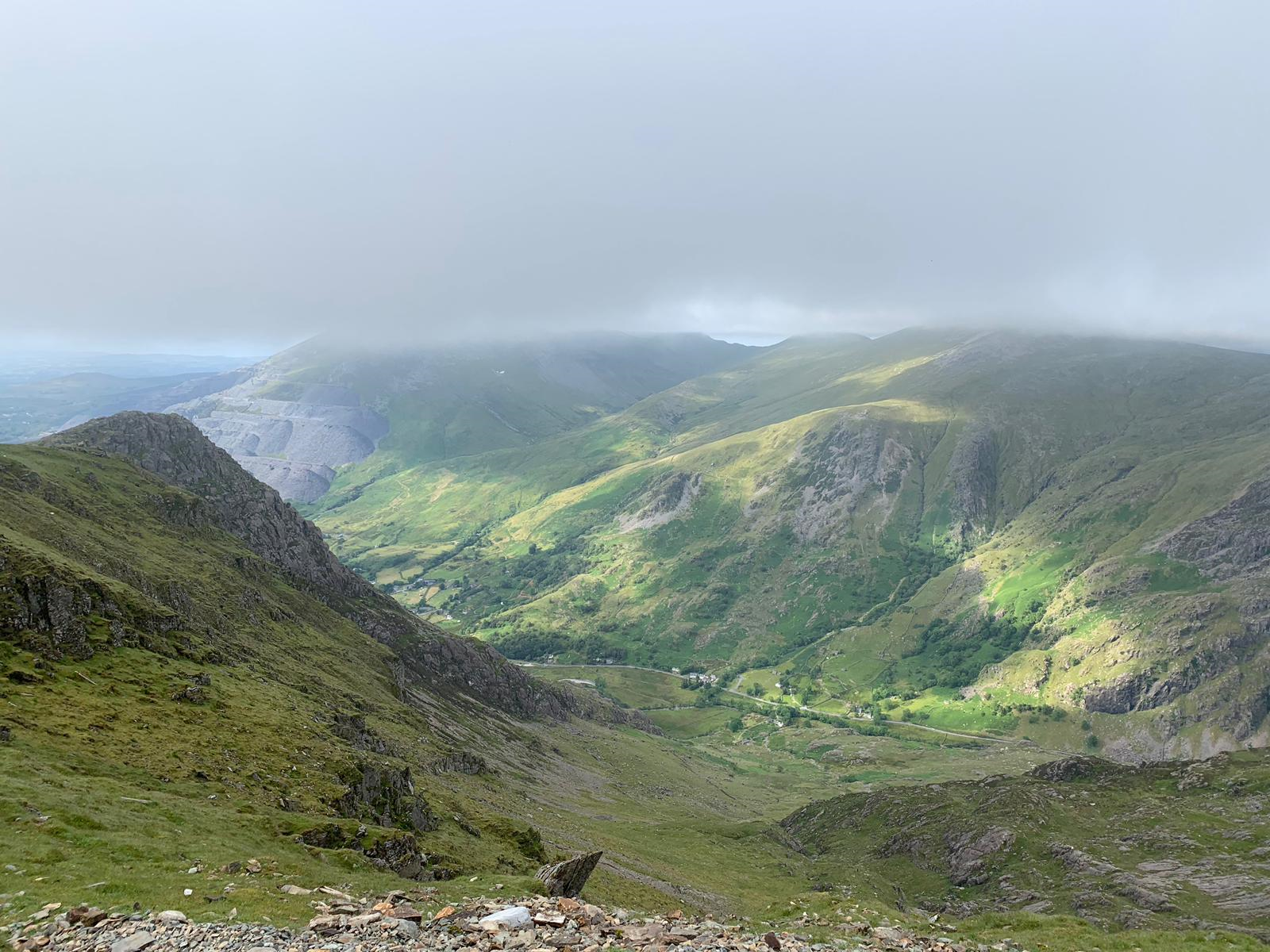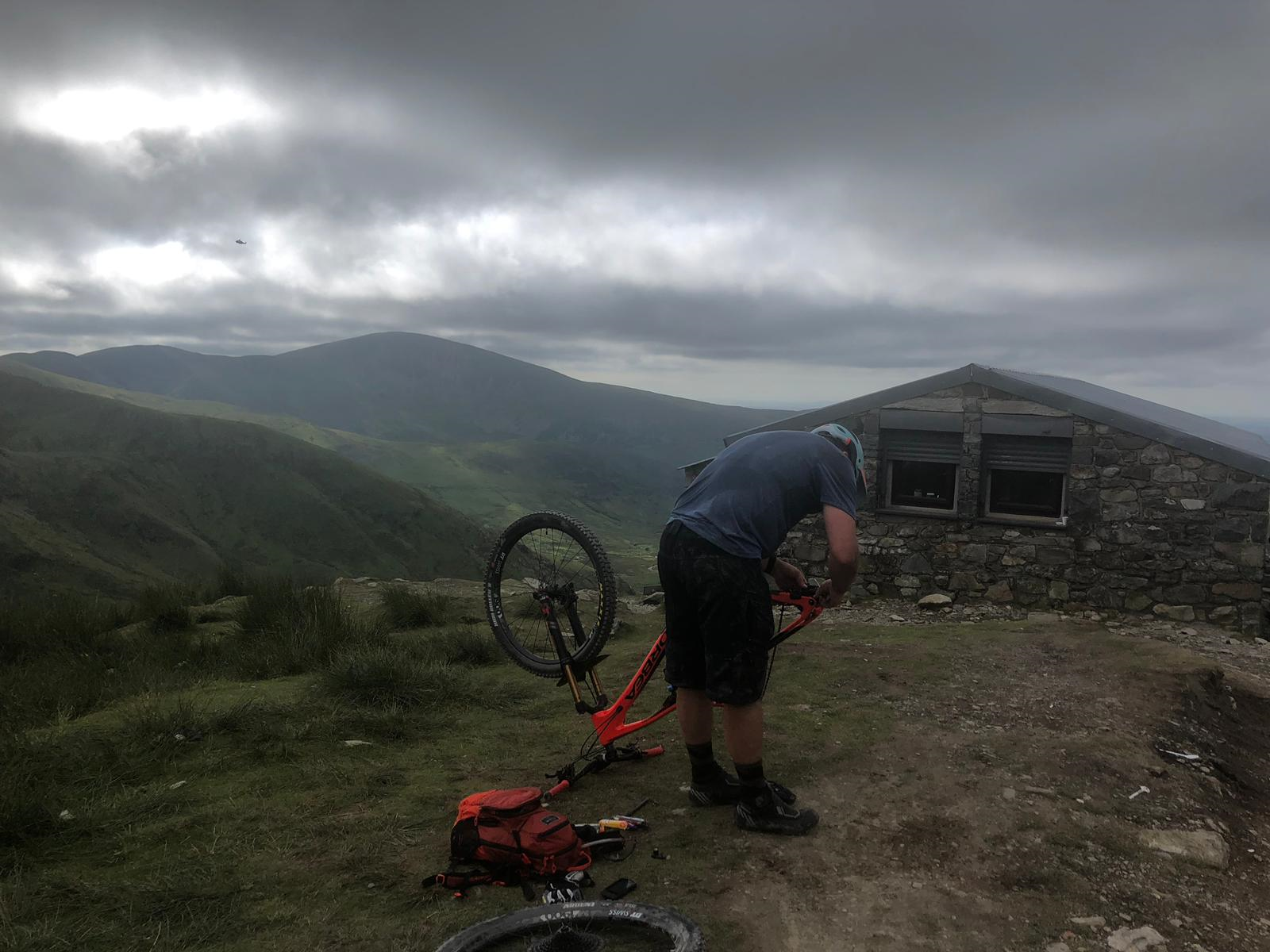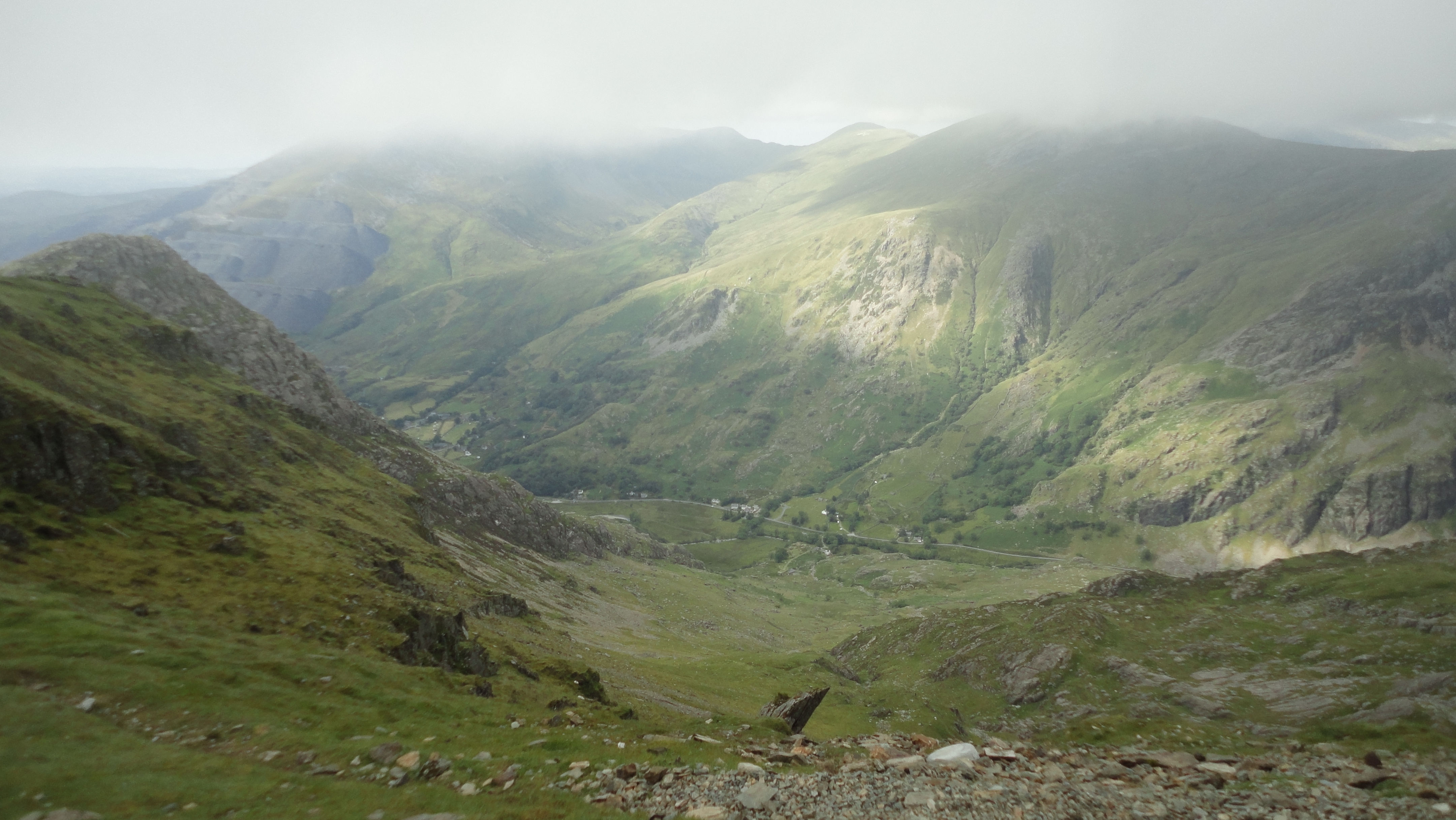 5 minutes at the most I stopped here before psyching myself up to get moving.
As I ascended more and more of Snowdon it became apparent of how big this mountain actually was! Some parts were so steep it was impossible to ride, even walking was hard work and walking whilst pushing a bike was even harder, however determinedly I pushed on and on saying to myself 'don't stop'
As I was making my way up there was a mountain rescue helicopter circling and making practice landings in the distance, for some reason this took my mind away from the climb and I was soon nearing the top.
There is a part on the Llanberis path where you go under the railway bridge followed by a sharp right hand turn which leads into a ridiculously steep part of the climb. The view here is amazing. I stopped for a moment as I asked a couple of ladies to please take a photo of me and my machine. They duly obliged, I thanked them and continued my journey.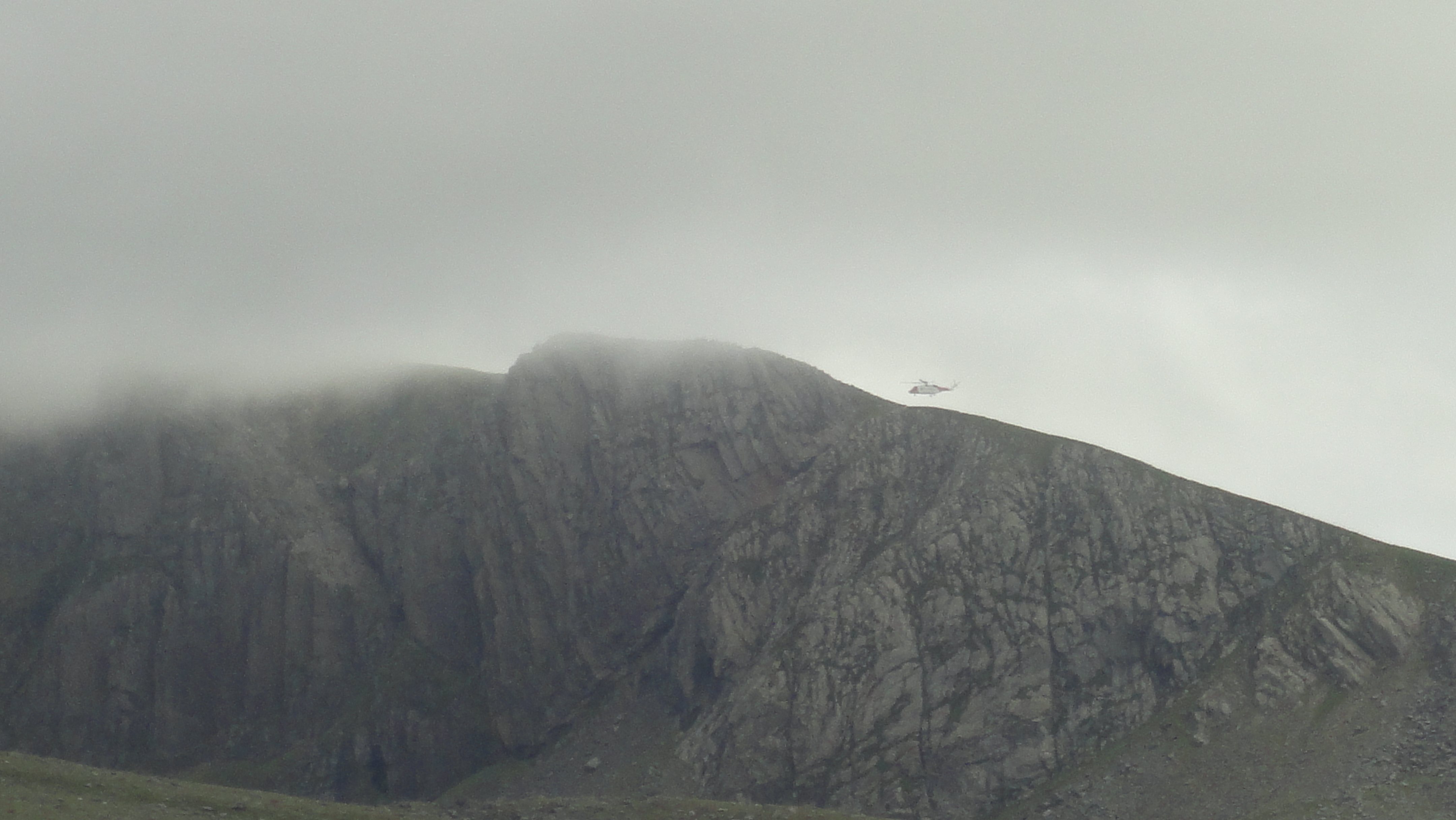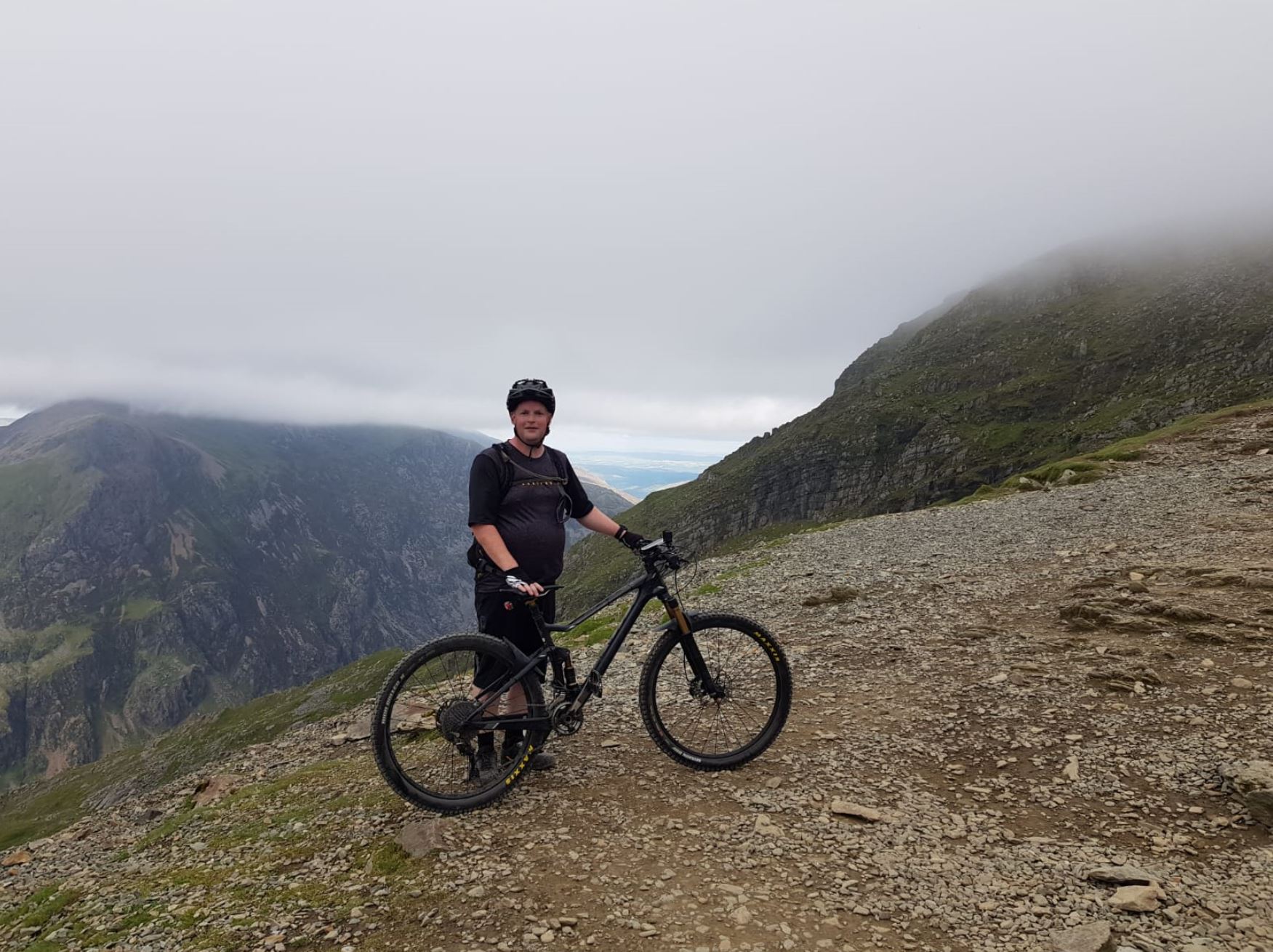 Once I completed this section it flattened out for a while lulling me into a false sense of security, however I pushed on and on. Higher and higher I climbed and I was probably about 500 yards from the top when all of a sudden the clouds cleared into what was a beautiful day. This last part was impossible to ride, it was time to pick the bike up and make a final push as I began climbing the big steps that were between me and the summit. As I dragged myself up just one more step and just one more step, I had made it. I was at the top. Other club members were there congratulating me on what I had achieved. We all congratulated each other stood back and admired the views.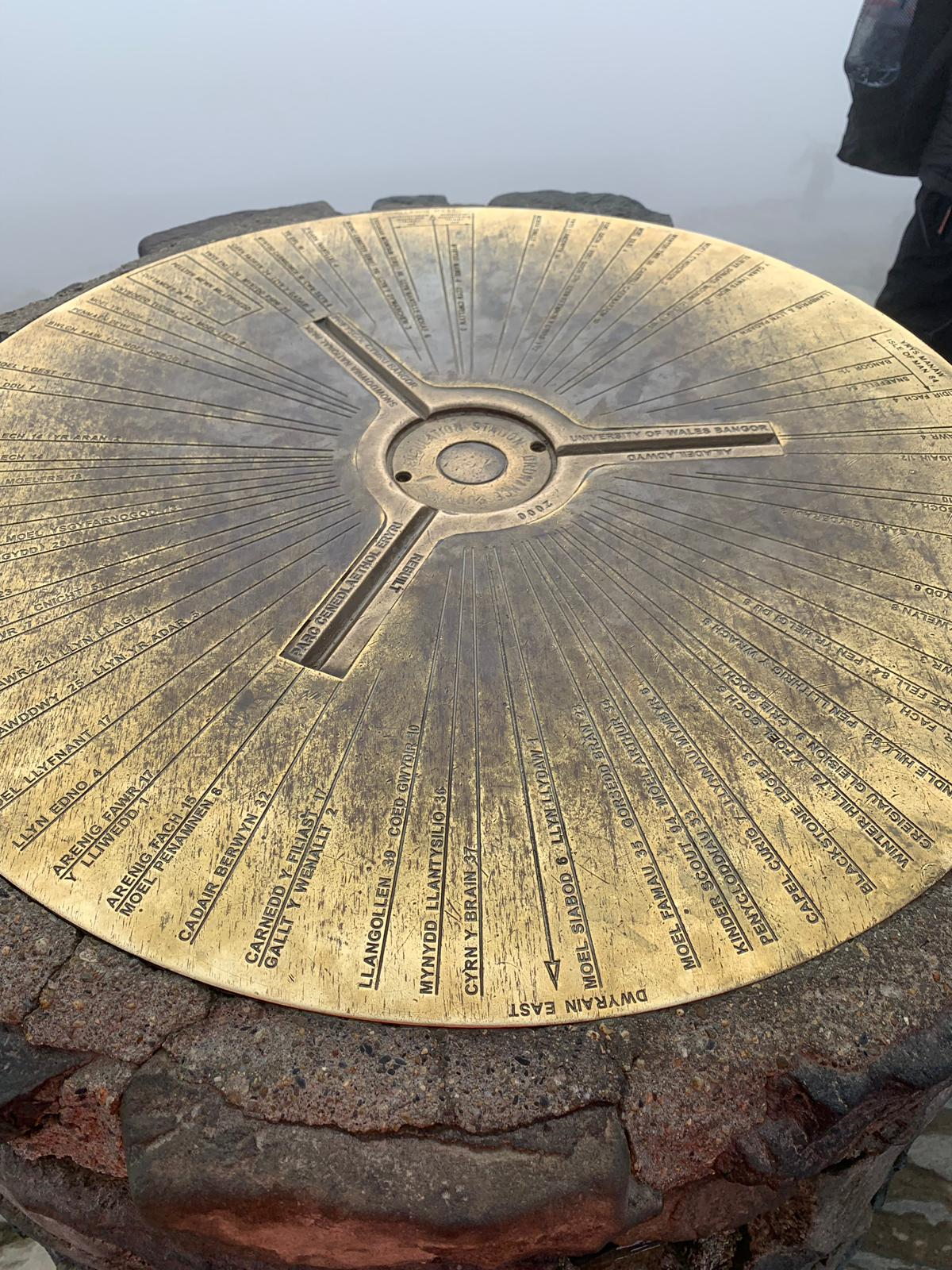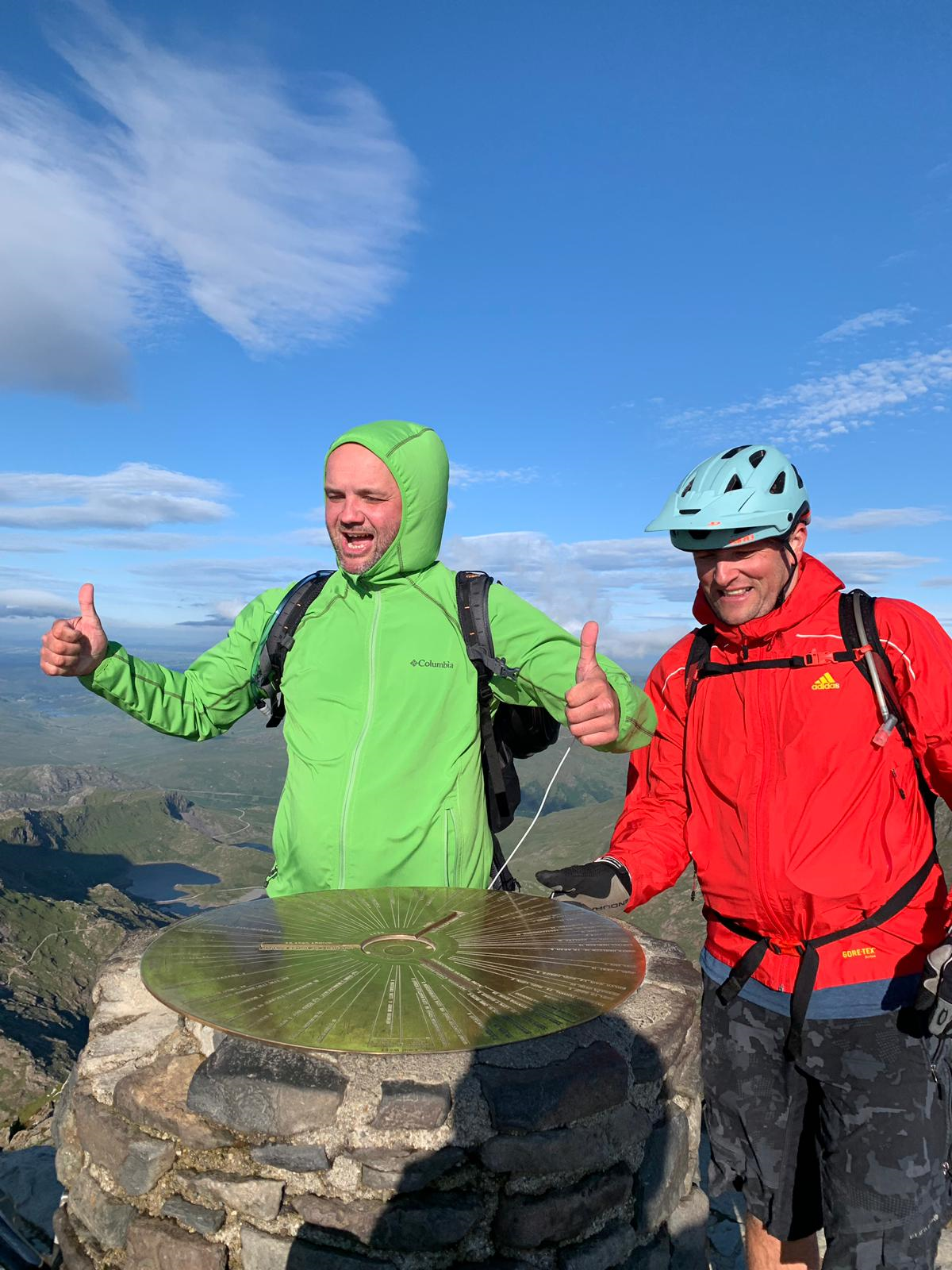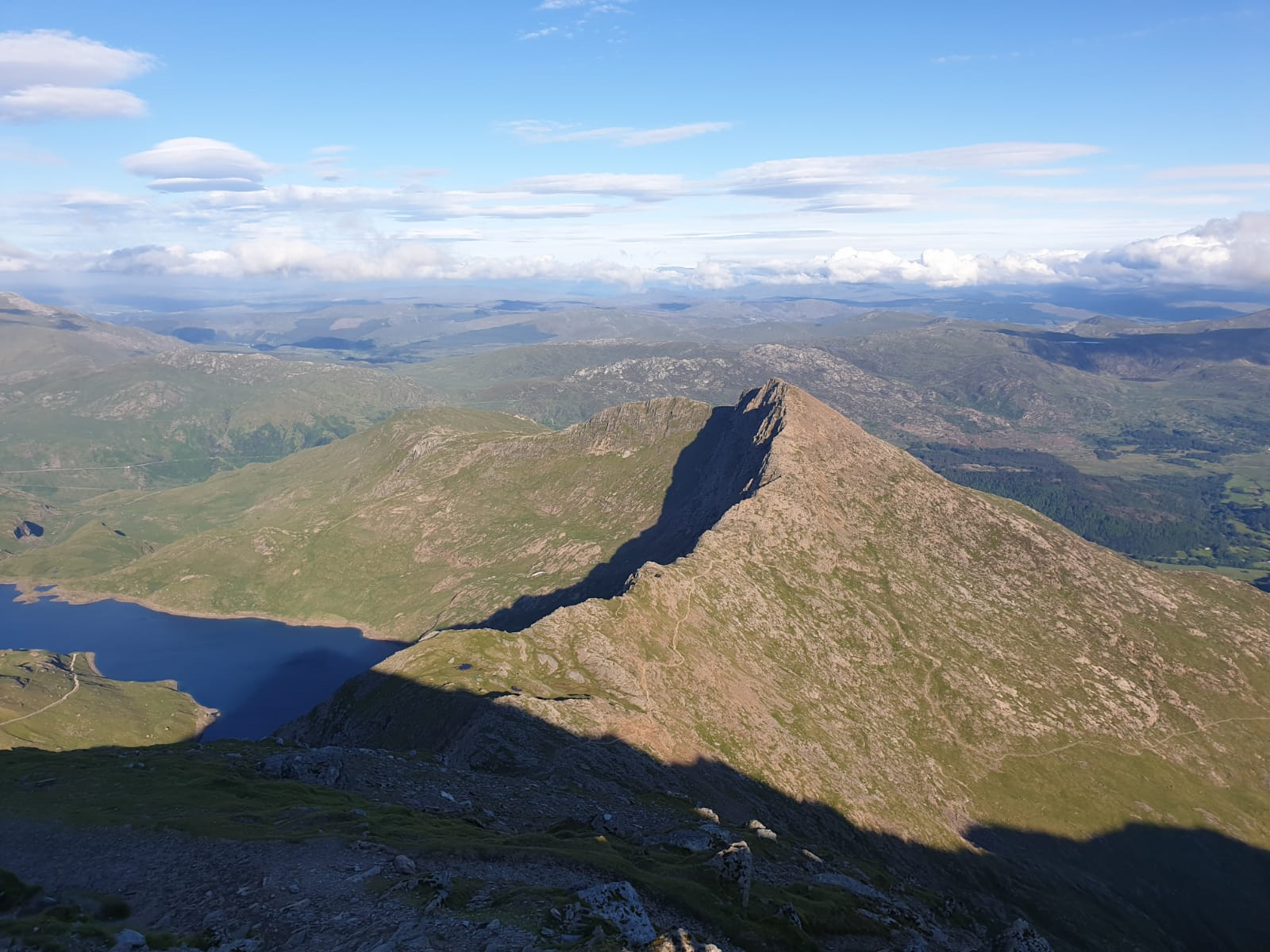 Once I got my breath back and had a quick snack to top up energy levels there was one more thing for me to do………….A picture of my bike and I on the summit. There was no way I was coming all this way and not doing the final few steps! I hiked my bike up the next few steps to get a once in a lifetime picture. By this I don't mean that I will never climb Snowdon again, because I will, there is no doubt about that. But what I mean is this was a perfectly timed shot. At my point on the summit there was no one else there (and its usually pretty busy with tourists) and the weather was perfect.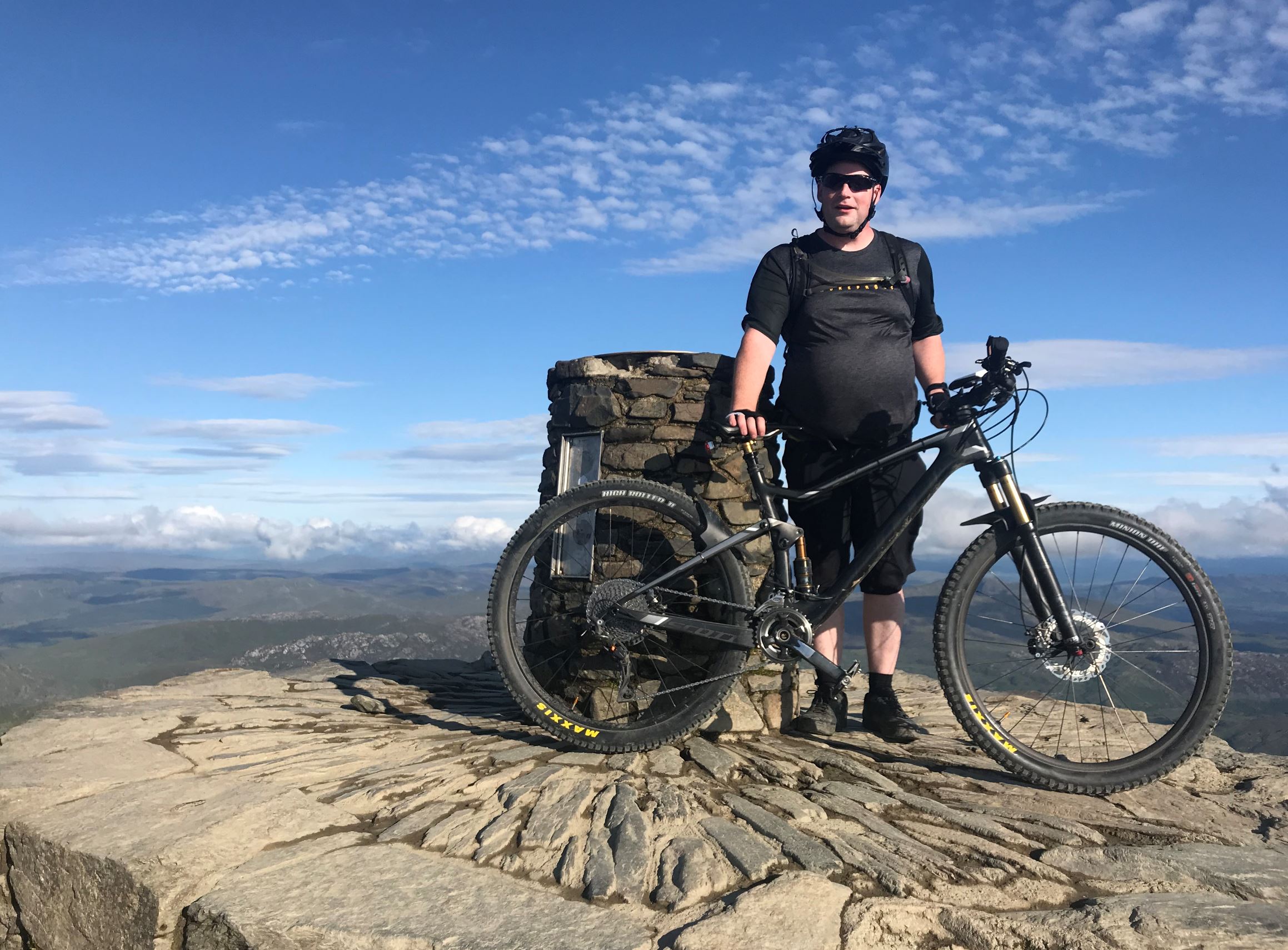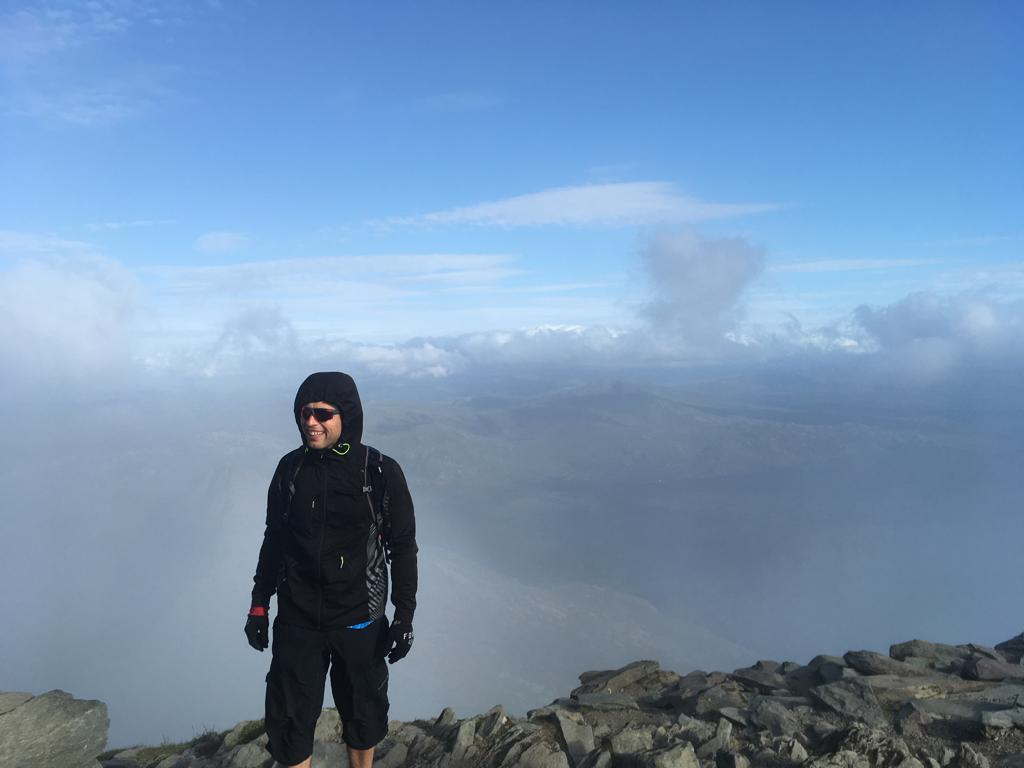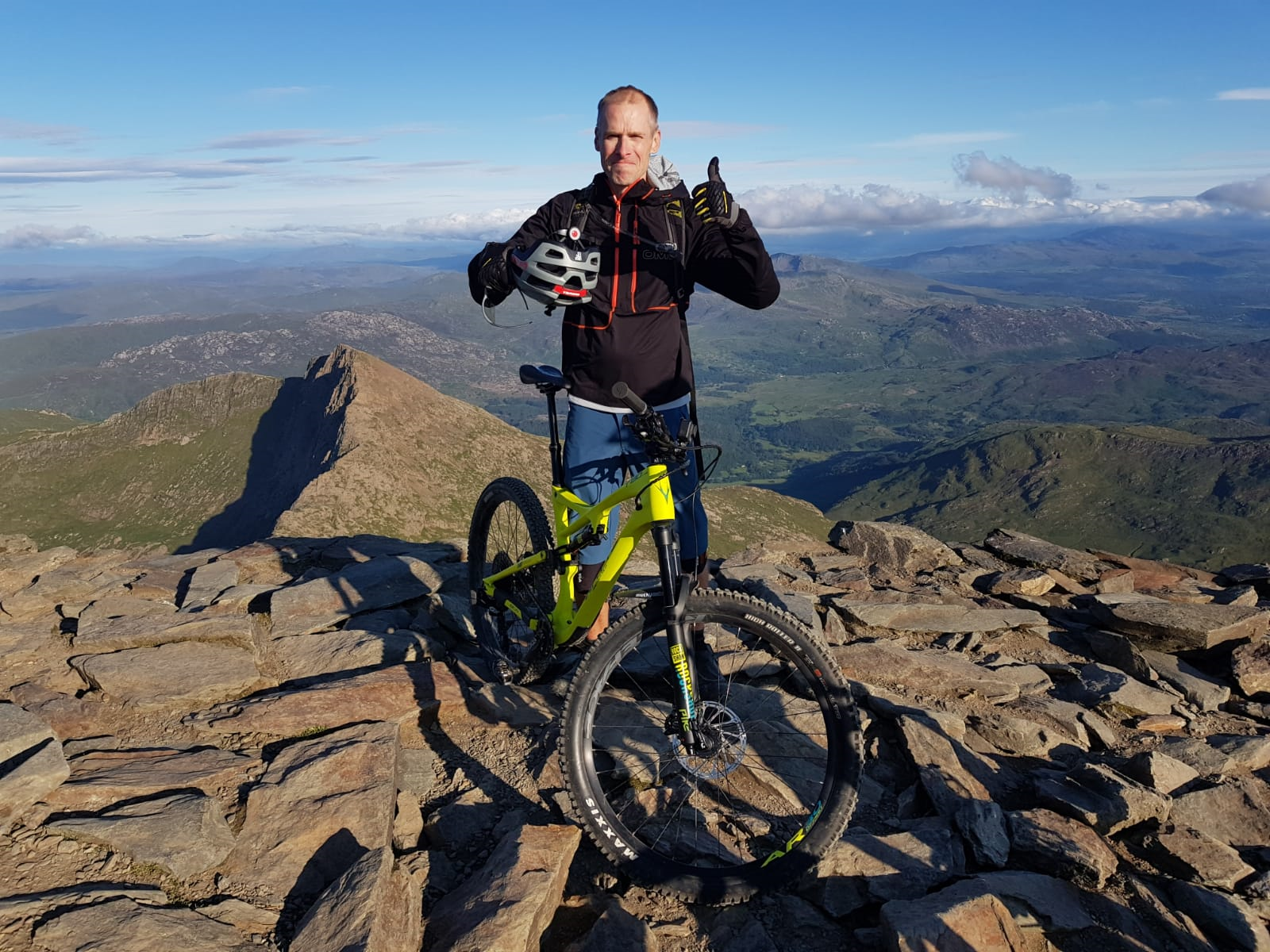 A group photo was soon taken of all 14 of us, we then put on our pads ready for the rangers descent.
For those that do not know this is a gnarly gnarly descent. Apparently its rated as double black and after riding it (and walking some of it) I can see why!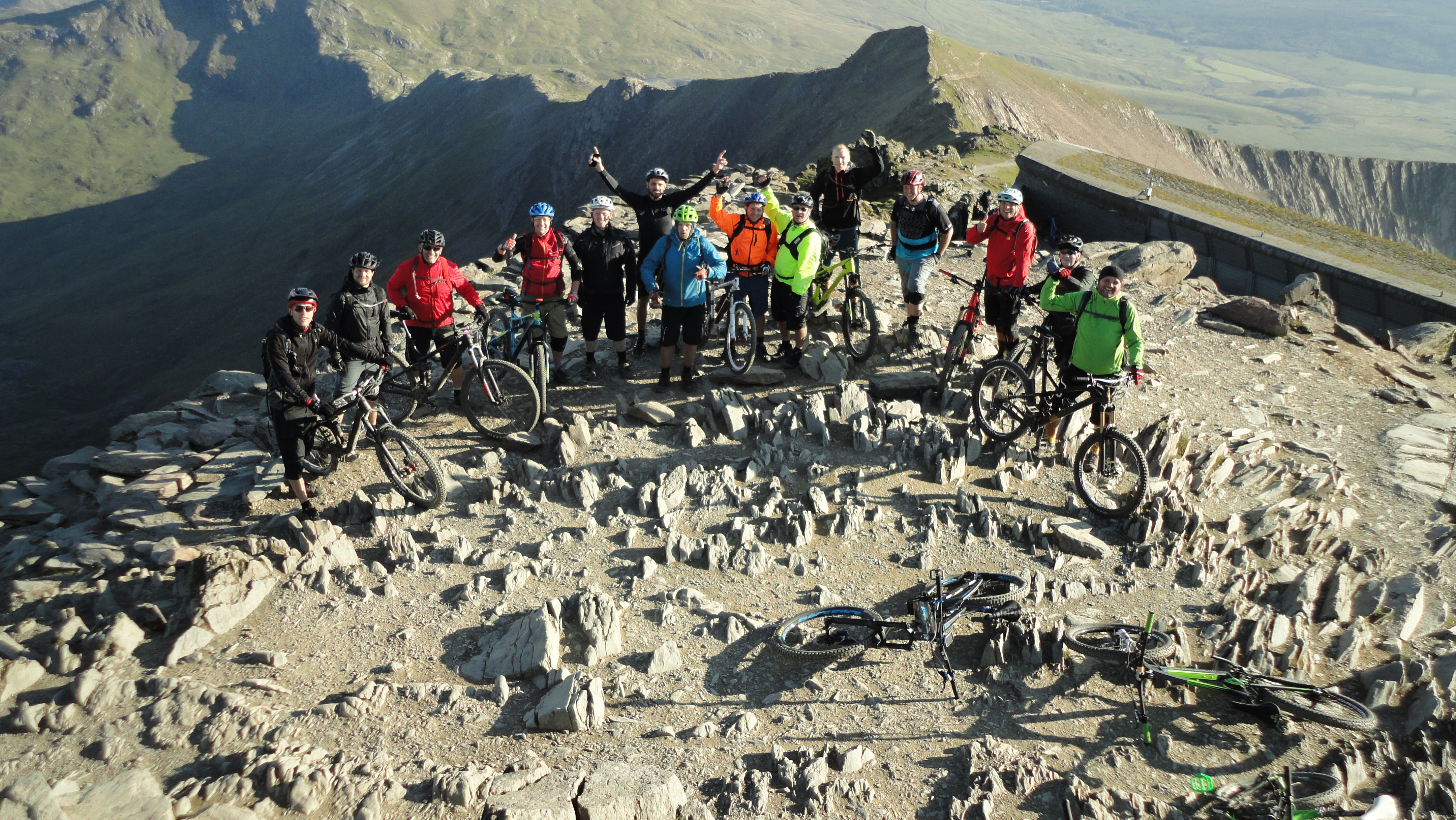 We made our way down the first part which was on lots of loose rock parallel to the train track. After this the path branches off to the left at a signposted rock to a fast loose and rocky descent.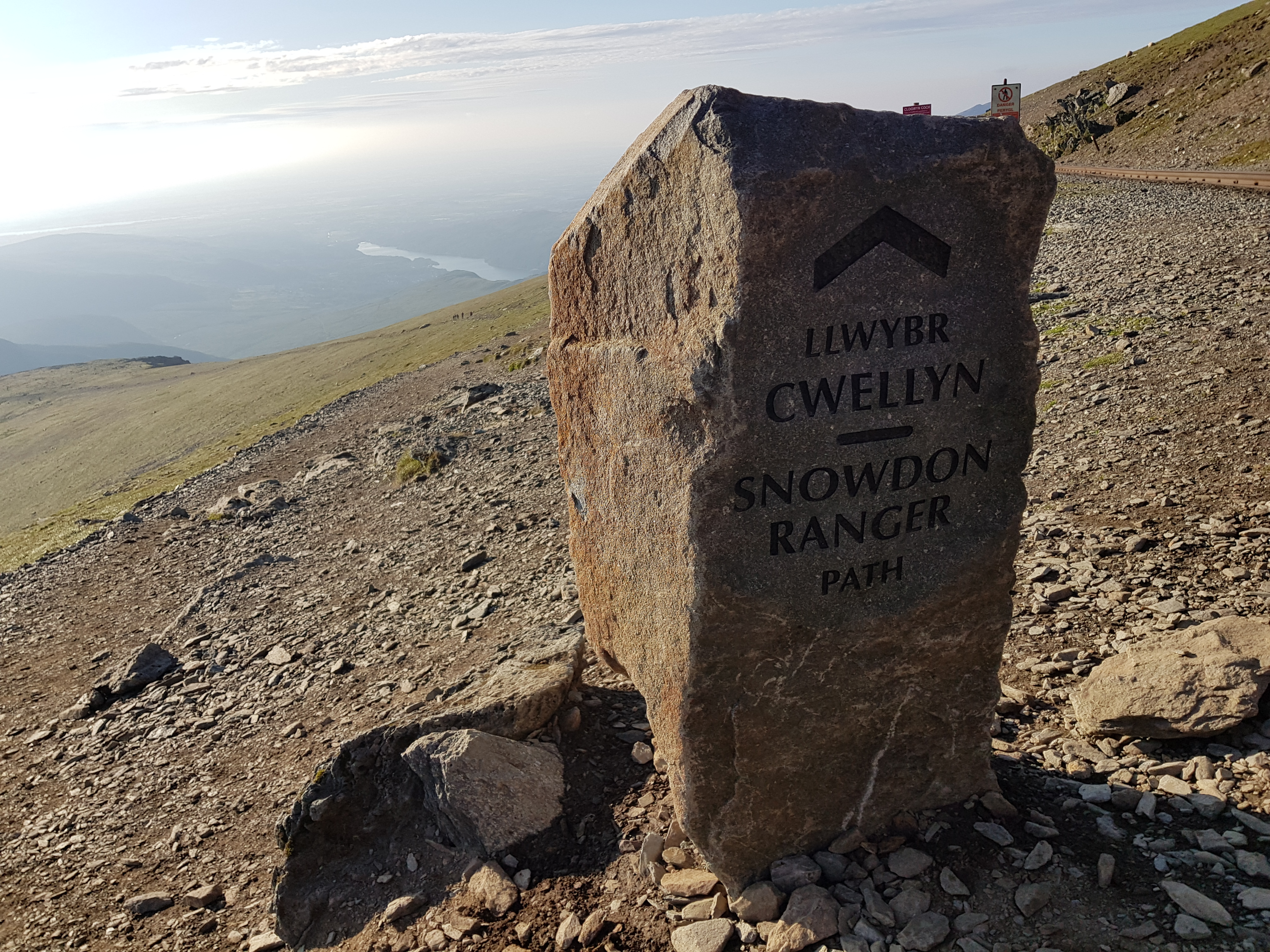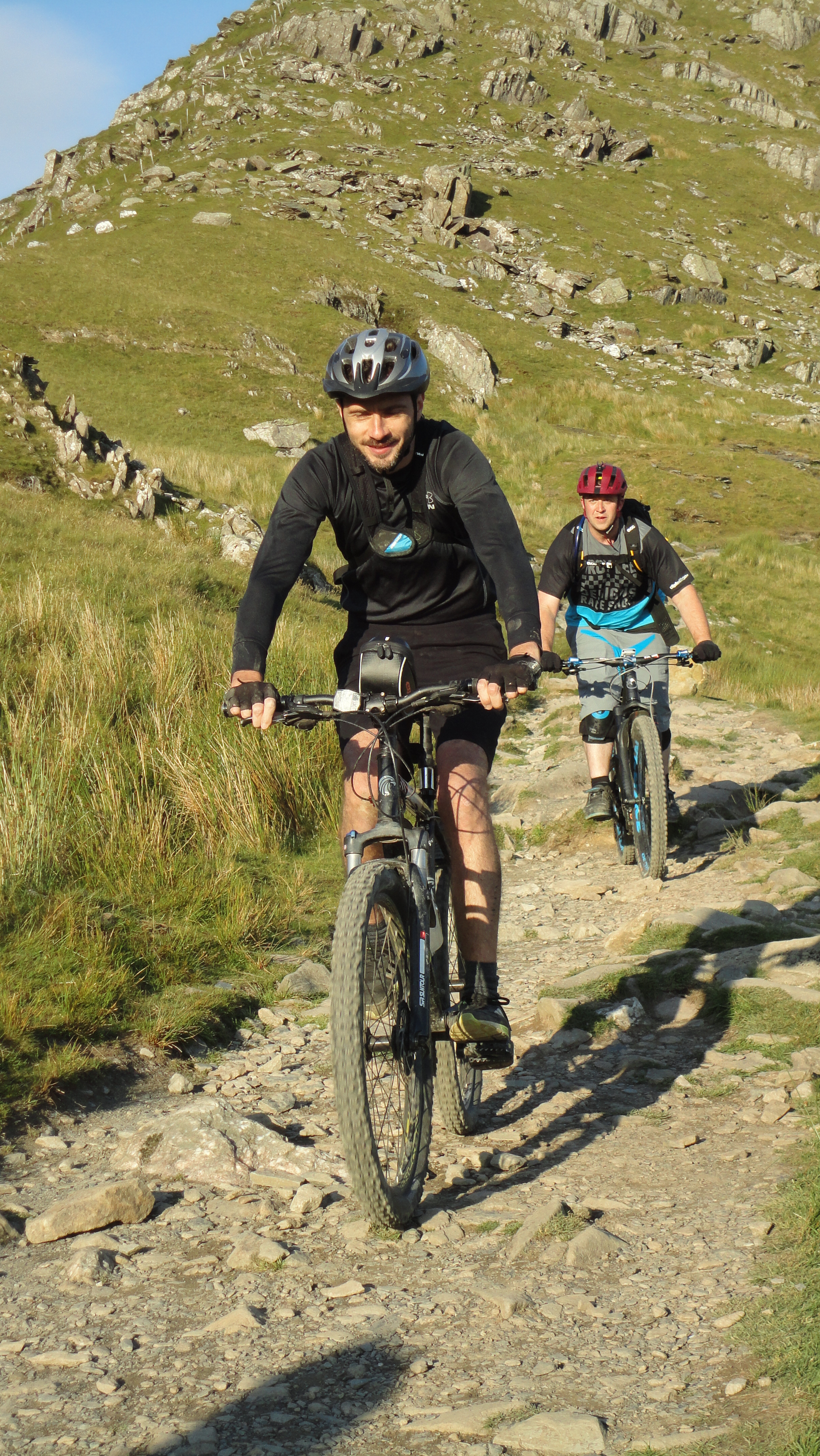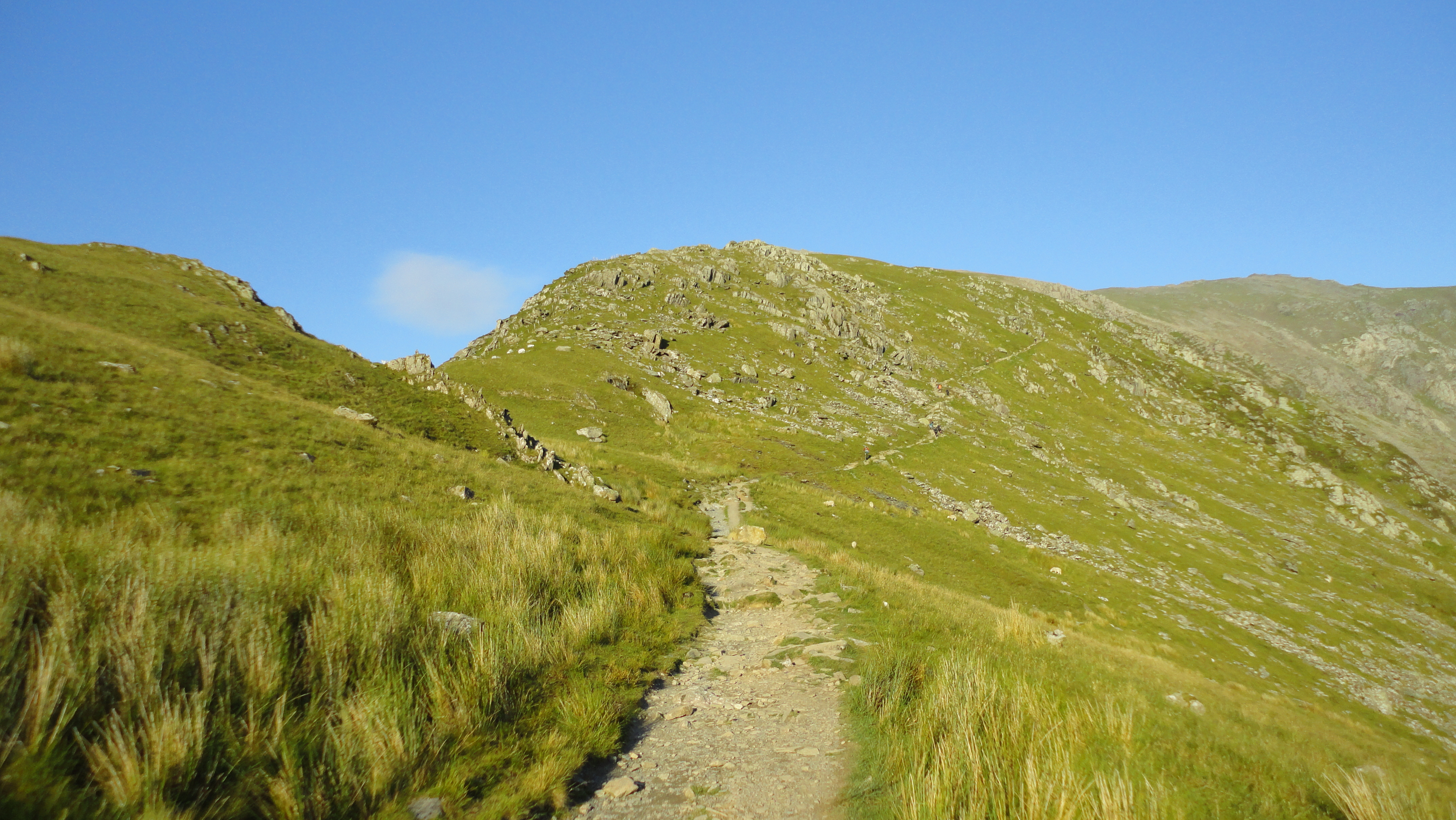 The track soon reached a steep section where things get really technical, here the track is covered with large loose rocks combined with chutes, tight switchbacks and steps. You really have to control your line here and your speed. This section ended with about 50meters of big rocks that I didn't have the balls or the skill to ride, as such I walked this part until I found myself on some nice hardpack trail. Shortly after this we stopped waited for the group to gather together again along with some obligatory photos.

Suitably recovered we continued our journey along more hardpack trail, through a couple of gates to what we were reliably informed was called 'Telegraph Valley'
This was a probably a few miles of long gradual descending. It started with a few rocky drop offs then merging into fast and flowing with epic views. Along the way there were lots of sharp edged bars for water drainage that made excellent jumps, but were also very good at causing pinch flats for the members running tubes in their tyres!
The track soon ended and we ended up at anther gate. Once Nathan worked out which way the gate opened (and kicked it for good measure!) we descended the final part of our journey down a country lane and soon arrived back at our hotel. We packed bikes away got ready and arranged to meet for dinner. We had all decided to have an early one as we were suitably knackered and still had more riding to do on the Sunday.
After a good nights sleep we checked out of the hotel and headed for the trails of Penmachno.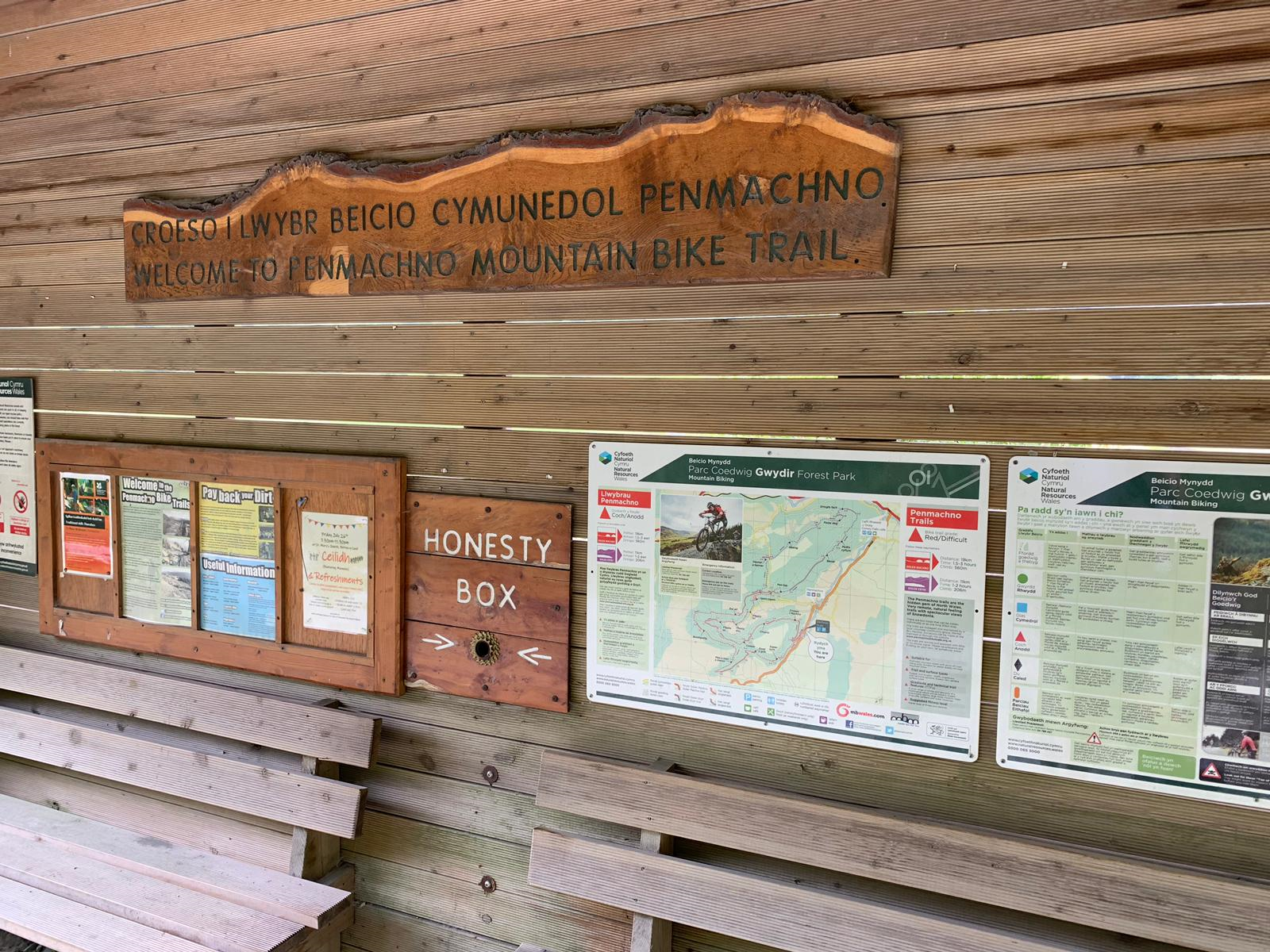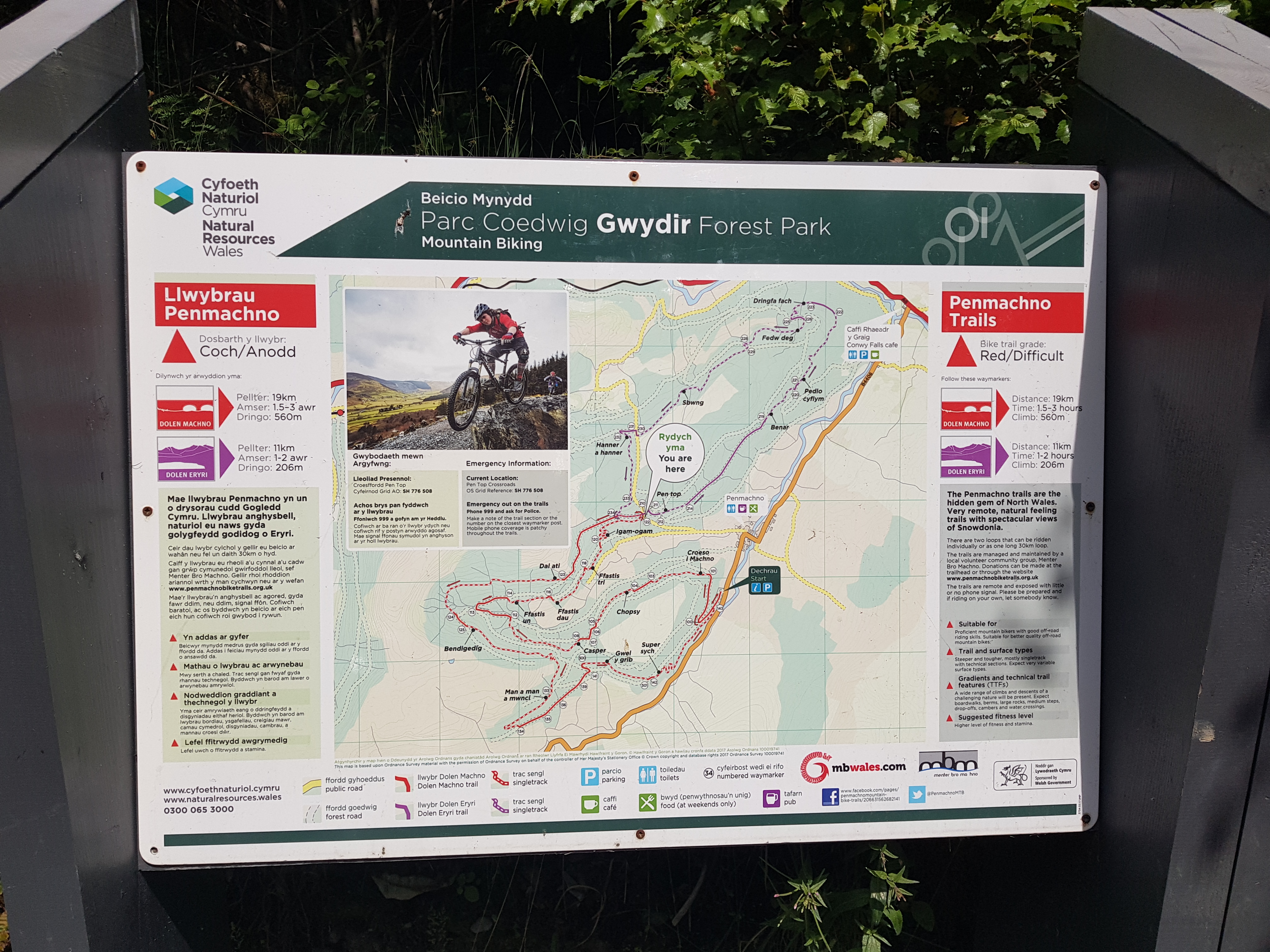 By this time some members had left for home and only 9 remained. The original plan was to ride both of the trails Dolen Machno and Dolen Eryri totalling some 18-19 miles, however even the best laid plans don't work out the way you want them to and as we were all knackered we decided on doing just the Dolen Machno. This was an epic little route with fast descents and big climbs mixed in with fast and technical single-track, tight switchbacks and amazing views all through sections of forest which wouldn't be out of place in a fairy tale. If you can imagine all of this then its a pretty good summary of the trails at Penmachno. Its a definite future club trip when legs are fresher!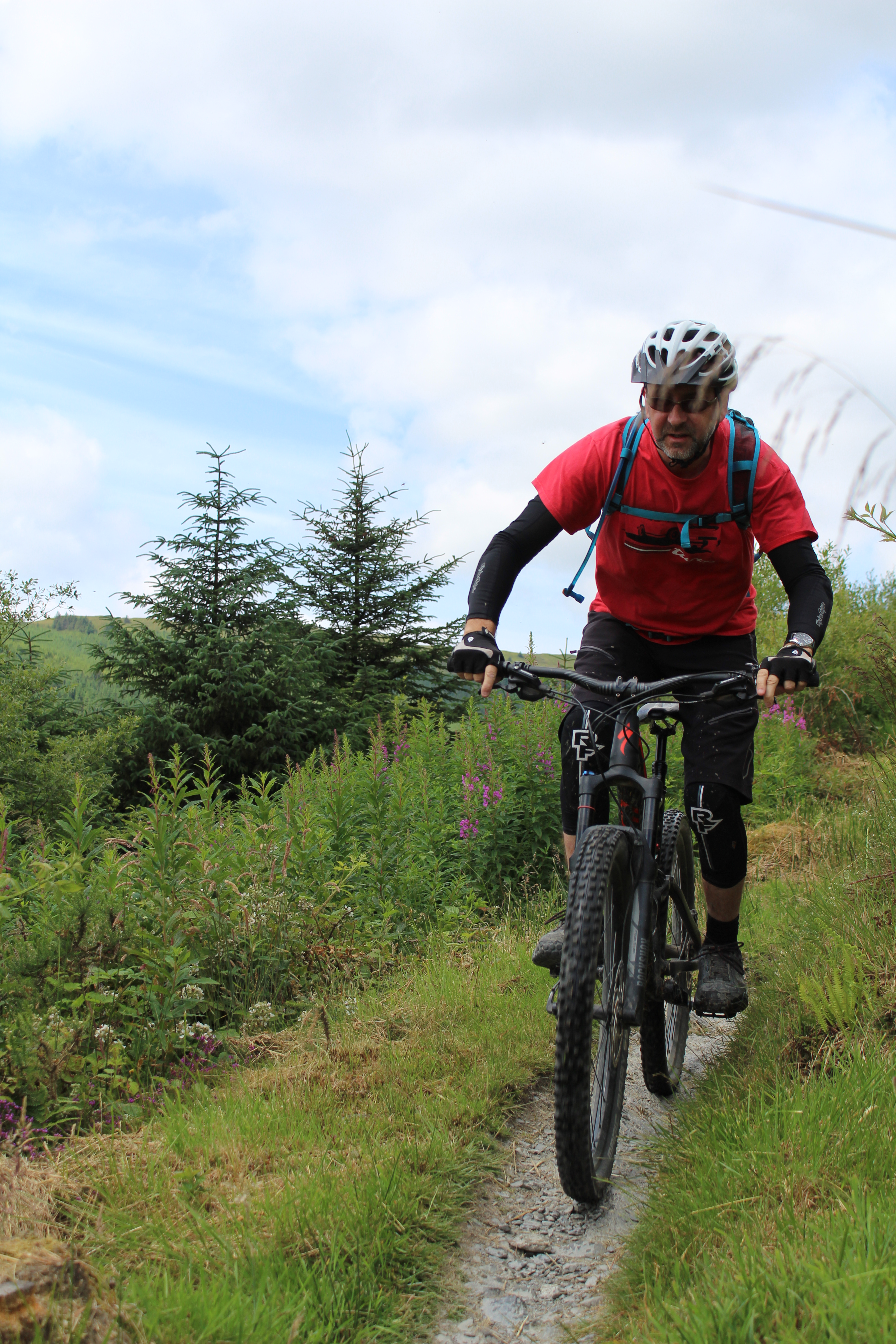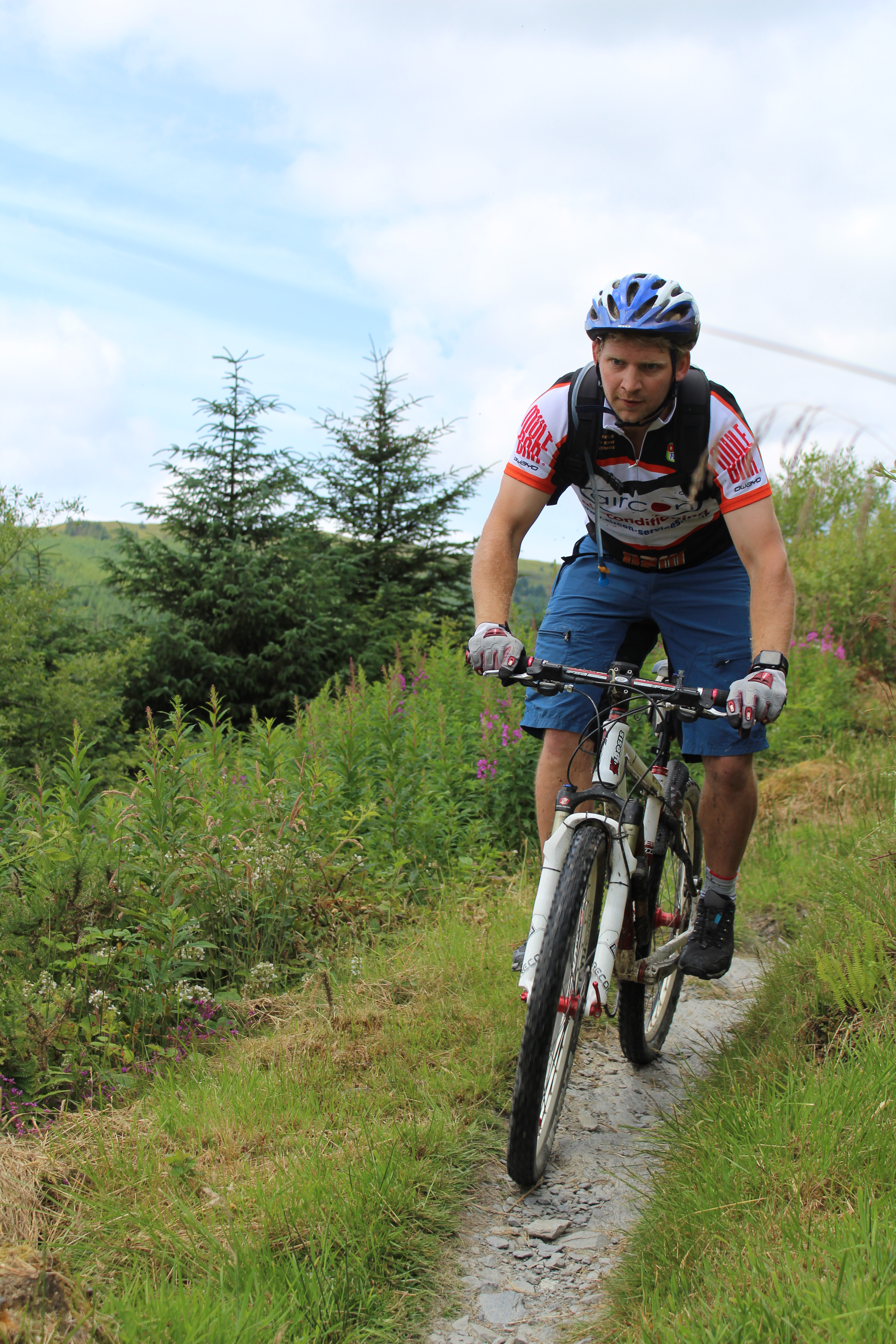 It was now time for the final descent which consists of fast and flowy berms leading on through some magical forest single track with lots of quick chutes and switchbacks followed by more berms. For most of the descent I was just holding on enjoying the ride where berm after berm soon spat us out at the hill where we began our ride. And that was it, half of Penmachno finished for the day to be re-visited at some point. All that remained was to 'Pay Back Our Dirt' (make a contribution in the honesty box). We loaded our bikes and made our way home.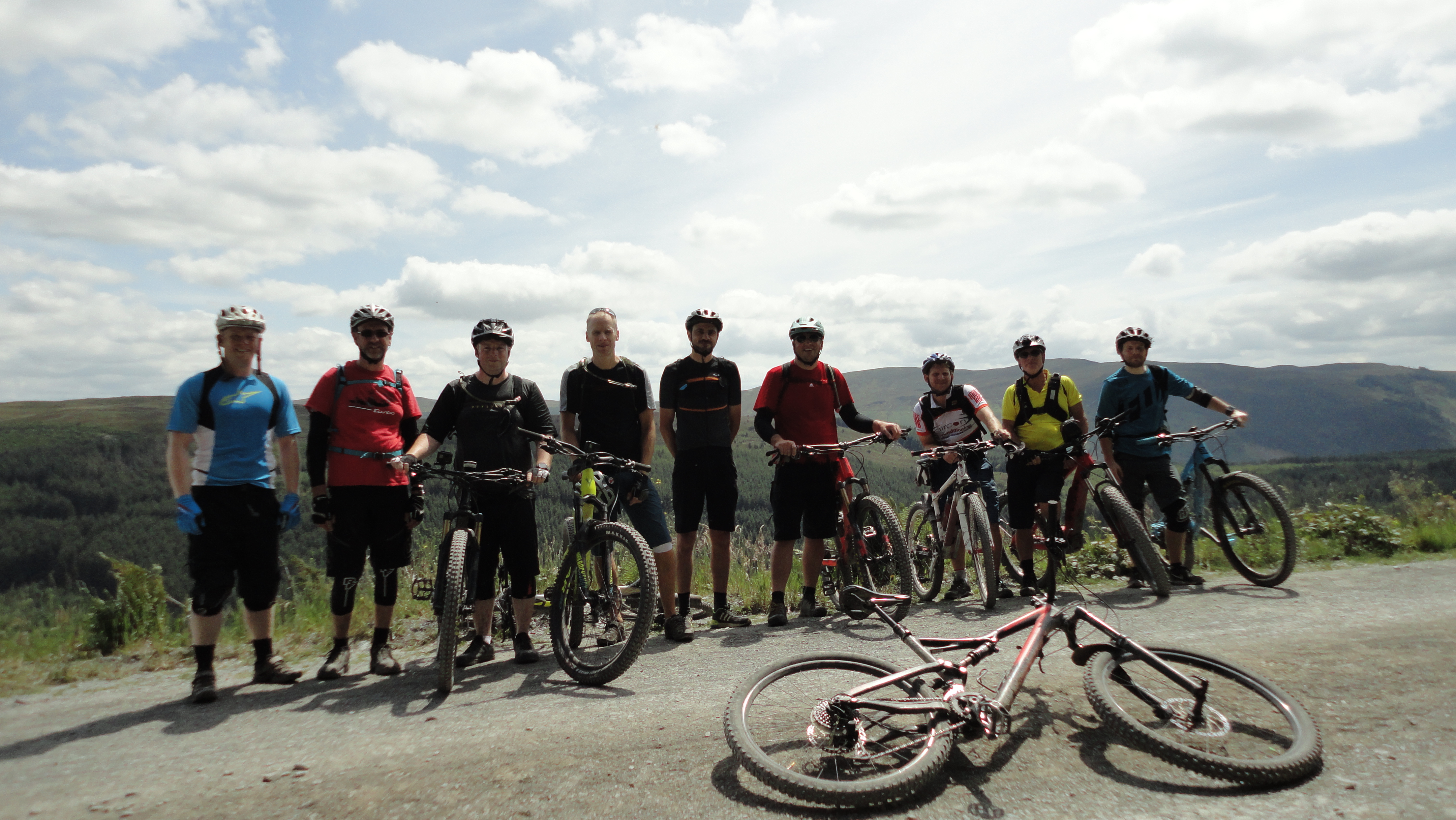 Personally I achieved things I could only dream of a few years ago and I hope that you all enjoyed and achieved what you wanted from this trip. In summary this was an excellent trip with some amazing riding and great company. I would personally like to thank each and every member for coming along on this trip and making this trip so enjoyable and memorable.