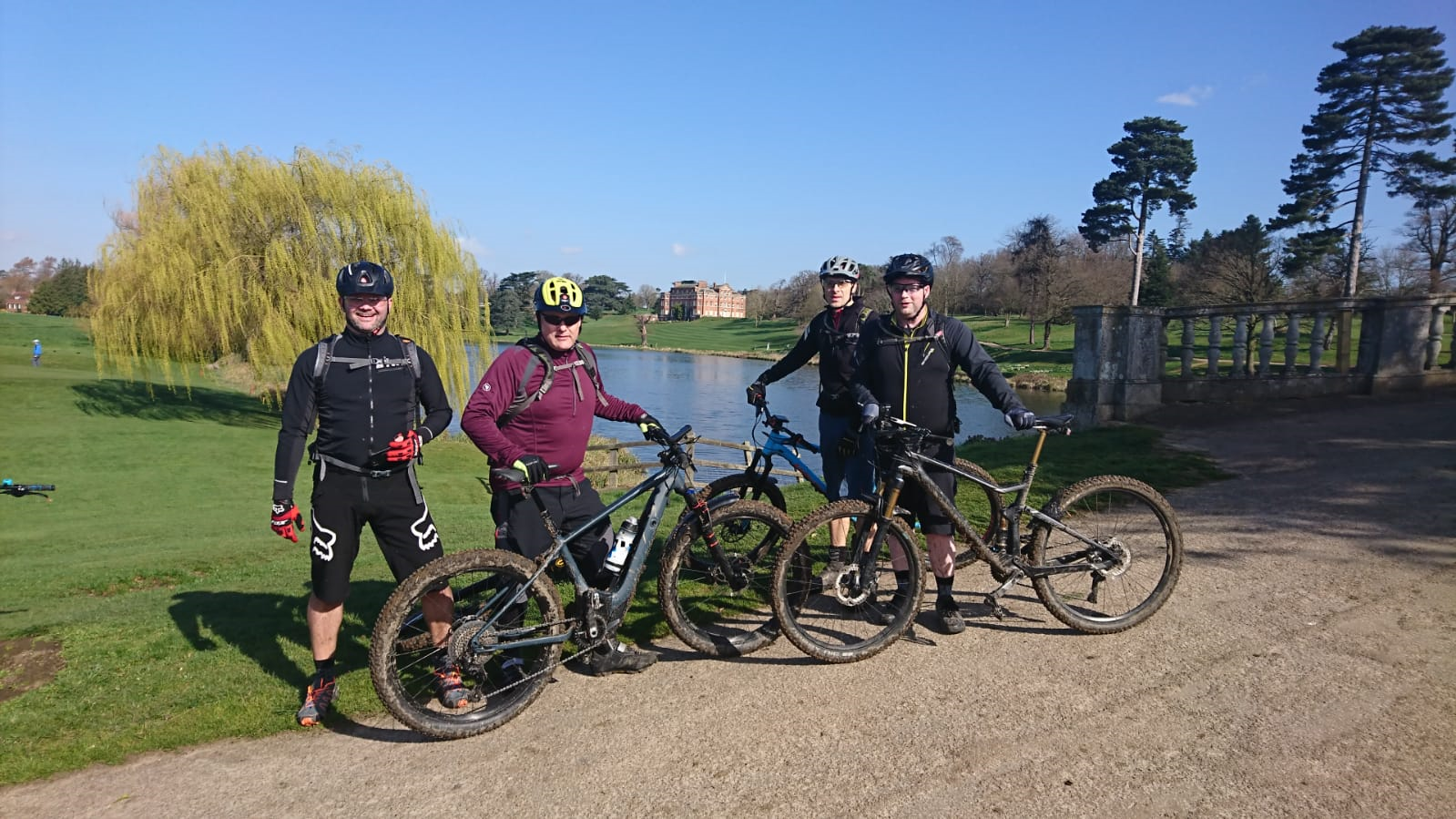 Five of us met up,  taking advantage of the lighter mornings, for an 8.30am start to hit the trails before the rest of the world...
Meeting at Nomansland Common (who called this one?!) we were greeted with golden sunshine and blue skies, Spring had finally arrived.
After riding across the common we entered bridleway #9 for a long descent into the village of  Sandridge, an old stomping ground of Martin I.  We then took the climb of Woodstock Hill to connect with bridleways through to the John Bunyan Pub.  From here a stretch of twisty singletrack through the woods gave an element of technical riding to our route.  Then across the agricultural fields of Hertfordshire to bridge the River Lea at the majestic Brocket Hall. Cue the photo shoots.
Then a steady climb up to the start of the Ayot Greenway, a former railway line which took away London's landfill waste until the 1960's.  The 2.5 mile thrash along its length  giving  Martin I the opportunity to show the rest of us why he chooses clipless pedals over flats, he was far out in front.
At the end of the Greenway a lengthy discussion was entered into as to the meaning of the diamonds on OS maps and whether they can be ridden, or not.  It all depends, apparently...
It was soon after this stop a loud knocking noise started emanating from Martin J's bottom bracket and, after an inspection, it was clear a replacement was necessary.  From here we rode the tracks through Gustard Wood into the wide open space of  Marshalls Heath.  It was here Mark Baylis unfortunately took the wrong bridleway for the long descent off the heath and, despite our shouts, carried on happily to the before realising.   He had  to make the long climb back up.  No problem for Mark, however, as he was riding an ebike.
We enjoyed the long descent off the heath and down to the River Lea.   Here  Pawel left us  due to time constraints.   We followed the Canal Cycleway along the Lea  and then  threaded our way through outer Harpenden and Amwell back to the start.
Thanks to Pawel, Mark,  Martin and Jim  for joining me for ride.
Report by Martin Jeffrey