This month we had a double header weekend taking into two Welsh away days, our members could choose to attend one, or both rides. Day one was to Llandegla and day two was to Antur Stiniog. Details on more club trips and away days to follow very soon.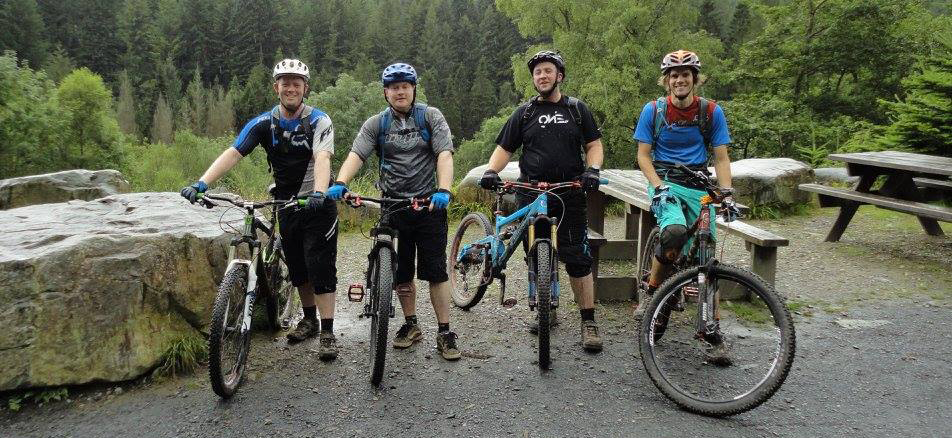 After some changes at work and some short notice holiday being approved it was decided for a cheeky three day mountain bike weekend. After looking into the lack of short notice flights to the Alp and the poor weather forecast for Scotland I decided to head to North Wales. As it was far too short notice to make it a proper club trip I decided at least to open it up to members to come along; Chris, Adam and James all appeared for a various combination of days. 
Read more: Club Members in North Wales; Llandegla, Coed y Brenin & Penmachno Report
One of our most popular club trips over the years has been our annual visit North to the Yorkshire Dales. Our annual pilgrimage always takes us to the Dales Bike Centre, a fantastic family run hub for the whole weekend. Advertised as the centre of trails The Dales Bike Centre packs plenty of B&B accommodation, catering, daytime café, twenty-four hour cake access, bike storage, a well equipped bike shop and an endless supply of ride recommendations all under the rooves of two beautifully restored traditional Yorkshire stone buildings. Did I also mention twenty-four cake access?!
We're apparently kindly known for putting on a good club trip, generally planned around riding, food and cake (you have to have priorities) but there was a new suggestion last year to take BucksMTB international, and where better to go than to southern Spain for some dusty technical summer riding! 
Club member Mike Haynes heads our unofficial Staffordshire based office and kindly took on the role of organising this club trip. Mike suggested the Sierra MTB team in Fuengirola near Malaga as he had visited twice before. With a location and dates set word was sent round to see who was interested and the easyJet flights and accommodation was booked.
A new location on our club trip calendar this year was the Shropshire Hills. A couple of club members had seen some articles and adverts for Shropshire mountain biking and also for the new local Shropshire Hills Mountain Bike And Outdoor Pursuit Centre setup. It was decided it was time to organise a new trip t'up North. After a few people had fallen by the wayside for life, work or injury we had seven people planned to head up for this trip.
As with most of our club trips they are planned on a flexible three day criteria where our members can attend any combination of a single, twin or all three days. Accommodation this time round was in the Hobbit-esque wooden camping pods based at the all encompassed trail centre setup include bike shop, accommodation, cafe and pub! 
The Long Mynd, is part of an Area of Outstanding Natural Beauty and is a series of hills with steep gullies locally known as Batches. A lot of the main riding in the Shropshire Hills works with trails going up and down The Long Mynd ridge line. The local riding includes some infamous trails regularly utilised by magazines such as MBR and Singletrack who use the natural local singletrack trails for bike tests and elaborate photo shoots. There is a trail map available and all the trails have recently been waymarked and numbers from one to fifteeb for ease of navigating. No GPS required.